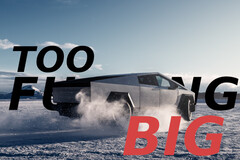 Electric cars were conceived as a more environmentally-friendly form of transport. With the effectiveness of EVs being called into question more and more, it's time to address the elephant-sized trucks and SUVs in the room. Super-sized trucks and cars exacerbate everything that's wrong with electric vehicles.
Views, thoughts, and opinions expressed in the text belong solely to the author.
When it comes down to it, EVs like the Tesla Cybertruck, Ford F-150 Lightning, and Rivian R1T are all terrible at being EVs for one simple reason — inefficiency. In an effort to build large pickup trucks with enough range to quell the average consumer's range anxiety, these brands have completely forgotten the point of the EV.
For argument's sake, compare the Ford F-150 Lightning and the Hyundai Ioniq 6. For the average family, they serve the exact same purpose equally well. Both the Ford and the Hyundai legally transport exactly five people and travel around 300 miles on a single charge — 300 miles for the Ford F-150 Lightning with an Extended battery pack and 316 miles for the Ioniq 6 SE AWD with the Long Range battery.
To achieve that around-300-mile range figure, the AWD Hyundai Ioniq 6 needs but a 74 kWh battery. The Ford F-150 lightning, on the other hand, requires 131 kWh — just slightly less than double the Hyundai's.
While the Ford F-150 Lightning does beat out the Ioniq 6 when it comes to luggage space — although the value of an open truck bed for groceries is debatable — and off-road performance, that argument is basically rendered irrelevant by how people use their trucks. An Axios study of Ford F-150 owners found that as few as 7% used their trucks "frequently" for towing, while as many as 87% used them for shopping and errands equally often.
The figures are similar for off-roading, too, with as many as 70% of truck owners reporting going off-road once a year or less. Electric SUVs are similarly to blame, with cars like the BMW iX needing a 105 kWh battery pack to deliver 300 miles of range — and they don't even have the ostensible "hauling" and "off-roading" excuses to back them up.
If the point of EVs is to reduce our carbon footprint, it should be self-evident that these mega-trucks and fat SUVs are not the way.

The Tesla Cybertruck is almost certainly going to fall victim to the same issue, with some predictions putting battery capacity at around 100 kWh for the base model, stretching to a whopping 160 kWh for the top-spec version. Of course, it's basically impossible to know the exact range and battery capacity, but it's expected that the base model will deliver around 250 miles of range.
Thanks to these massive battery packs, not only do these bigger vehicles take longer to charge, potentially clogging up public fast chargers, they also put more strain on the electricity grid, require more minerals to make, and take far longer to offset their manufacturing footprint.
Despite lower lifetime pollution, EVs reportedly produce around 40% more emissions than their ICE counterparts during production. This basically means that it takes a while — a certain number of miles travelled — before EVs are actually greener than petrol- or diesel-powered vehicles. Using bigger batteries to get the same range simply makes EVs take longer to "break even," as it were.
While car sizes are growing in Europe and other international regions, it's America that's most guilty of a giant car obsession. On top of that, many Americans want an EV to have at least 250-300 miles of range, claiming that the US is simply too big for anything less.
The reality here is that the average American commutes only 41 miles in total per day — Toyota may have been right about its 44-mile hybrids, all along. This has a few implications. Not only are most EVs — whose average range in the US now verges on 300 miles — carrying around a whole lot more battery than they really need, they use that battery incredibly poorly, thanks to inefficient design and consumer culture that puts looks, bravado, and imaginary use cases above practicality.

Now, it must be said that cars, especially in recent decades, have long been about more than just practicality, with even the most mundane Honda Civics generating a cult following, but at some point, we need to start valuing function over form again.

For the 7% of truck owners that actually use their trucks to haul things, it makes sense to buy the Ford F-150 Lightning or the upcoming Tesla Cybertruck — if only Toyota would give us the Hilux EV we all dream of — but everyone else should save their money and buy something like a Subaru Solterra, Fiat 600e, or Hyundai Ioniq 5 or 6.

In many US cities with the correct infrastructure, it's even possible to replace your car — yes, even the SUV you allegedly need "for cargo space" — with an e-bike.
Buy a Hover-1 Pro Series Altai R500/R750 Electric Bicycle on Amazon.