Microsoft wants to make its AI service for work, Microsoft 365 Copilot, basically ubiquitous within its ecosystem. And at its Ignite conference, Microsoft is well on its way to launch Copilot services early next year.
For consumers, Copilot means adding additional AI capabilities to Microsoft 365 Office apps like Outlook and Teams. Microsoft is planning to remove the "Bing Chat" brand that has marked its early forays into AI and just replace it with "Copilot," for both consumers and enterprises. Copilot is also moving out of preview, and will become generally available starting December 1.
If you've used Windows Copilot — especially while working with the Copilot sidebar open — you may have noticed Copilot react to what you're doing elsewhere on the screen. Text you've copied, for example, gets slurped up by Copilot, ready for it to be acted upon. Expect Copilot to work similarly in apps like Teams, transcribing and taking notes while a meeting occurs, but also volunteering insights when the meeting wraps up. In the latter case, some of the analysis may be performed by Teams itself; if your business subscribes to Dynamics 365, however, you may see a sales-specific Copilot start offering suggestions.
Microsoft 365, however, touches over 300 million users each month, and Microsoft has big plans to add AI to its core apps. Copilots are coming to users, and to admins, too. Remember, Copilot for Microsoft 365 will cost businesses $30 per user per month.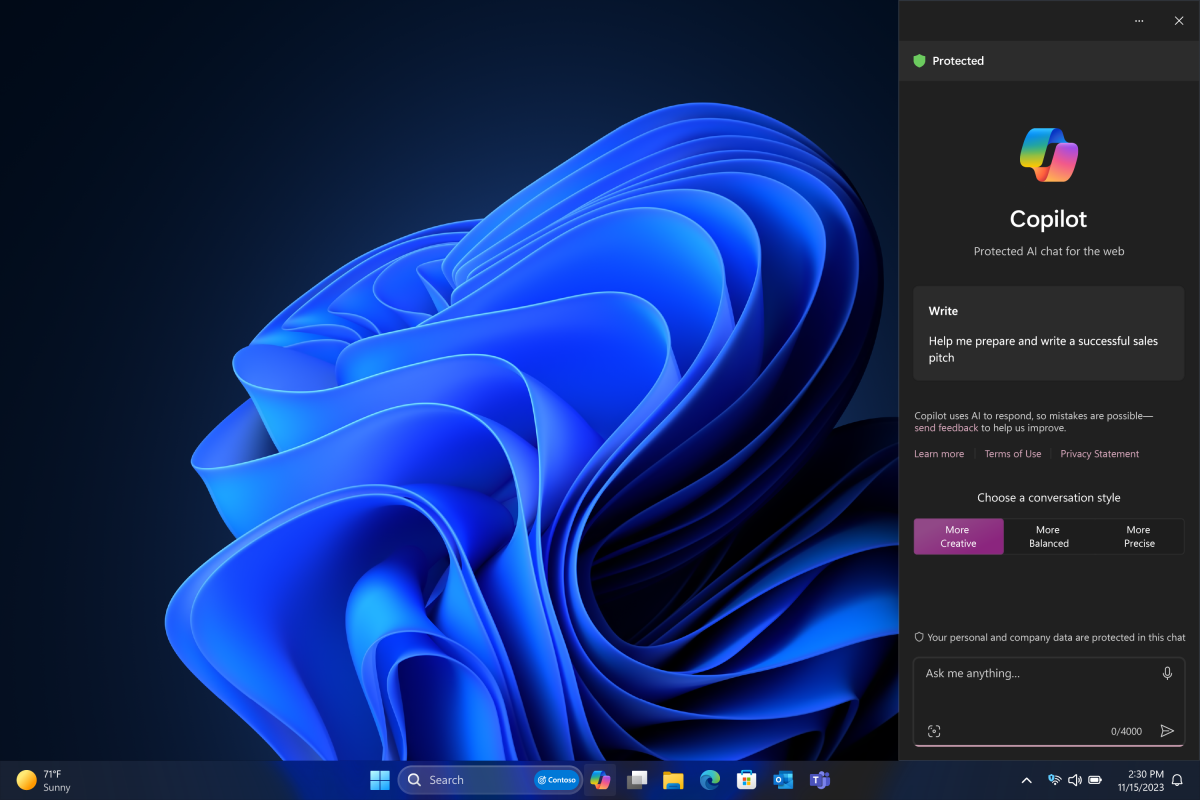 Microsoft
Copilot for Teams will summarize and analyze
Within Teams, Microsoft plans to integrate Copilot and its Whiteboard collaboration tool to "turn meeting participants' spoken ideas and topics into a visual collaboration space in Whiteboard," the company said. Not only will Copilot be able to contribute to the Whiteboard illustration itself, but Copilot will summarize it and then the summary will be sharable via the Microsoft Loop app.
Teams' Copilot will also be able to take live notes within Teams meetings, while then be shared with participants. According to Microsoft, those notes will be "queryable," so you'll be able to ask Copilot for more details on what a participant said. (This will be part of the Teams desktop and Web app, rolling out next year.) Users will also have the option of leaving a Teams meeting private, with no Copilot-authored notes of what went on.) For those organizations that use Teams phones, Teams will also be able to take notes and summarize calls, too.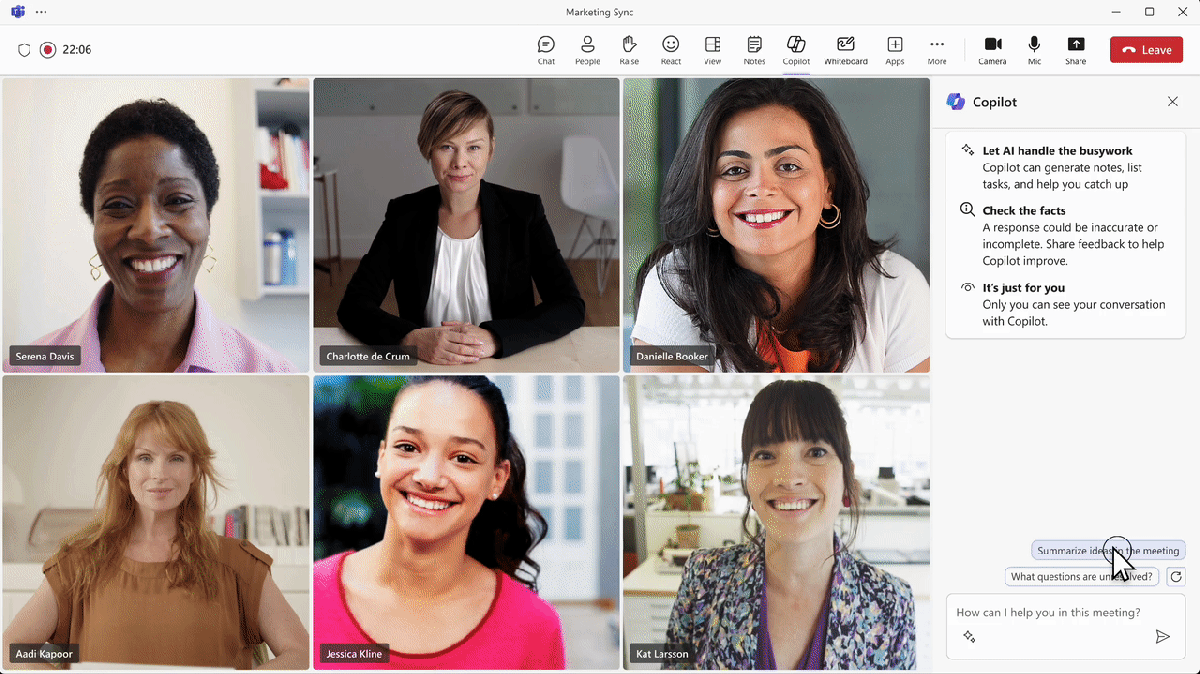 Microsoft
Outlook and Word are getting Copilots, too
Microsoft plans to roll out Copilot in Outlook in "early 2024," it said. Here, Microsoft is highlighting two points: first, Outlook will be able to create (or read) a summary of a meeting, and then plan followup meetings — suggesting participants, understanding their schedules, and suggesting an agenda. Second, Outlook's Copilot will be able to summarize your upcoming meetings, with related emails and attached files. The latter look at your workweek was something Cortana could supposedly do, though without the added documentation.
Within Word, Copilot plans to integrate Copilot to better track changes. If an editor rewrites your draft, for example, you could ask Copilot to summarize the most meaningful changes. Microsoft already sees Word as a content-creation tool, a feature that feels like it's being subsumed into other parts of Windows. Microsoft also says that it's going to tap Copilot and Graph to create more personalization, whatever that turns out to be. That will all happen in early 2024.
Microsoft
Microsoft Loop — its odd, widget-based environment — should be able to "read" linked documents and adapt templates, beginning next year.
Finally, Microsoft is adding what we all should have expected: connectors. Just as Microsoft is allowing Windows Copilot to surf the Web via Bing and use various plugins to deepen its knowledge, Microsoft 365's Copilot is gaining that ability, too. Several plugins and Graph connectors, including Web search powered by Bing, Microsoft Dataverse, Jira, Trello, Mural, Confluence, Freshworks, and Priority Matrix and more are now available, Microsoft says. Customers like Wells Fargo and KPMG are developing their own custom connectors, too.
There's far more: Microsoft has specialized Copilots coming for its Viva Insights program. And if you use Power Automate — Microsoft's version of IFTTT — you probably know that while it's a fun to create an automated "flow" or macro, the steps can be laborious. It's a bit like coding. Well, given that Copilot's quite good at coding, Microsoft plans to integrate Copilot AI into the Power Automate creation process. That's still in preview, however, with no indication when that feature will go live.
Microsoft isn't using AI to combine some of its planning apps, but it's doing it anyway. Microsoft To Do, Planner, and Project will be combined into Microsoft Planner, beginning with the Planner app for Teams in early 2024. It doesn't sound like any features will change, just the name.
It's all a much richer vision of what Copilot AI can do, just six months after Microsoft began sketching out its office Copilot vision in March. Even the vision concepts were a little thin. Of course, admins and developers will get their own Copilots, too.
And for those of who are feeling like, well, what about my own intelligence? Microsoft wants you to have a partner in Copilot, and it's headed your way regardless.
Updated at 9: 27 AM on Nov. 15 with additional details.