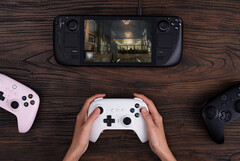 The 8BitDo Ultimate wireless controller is 20% off on Amazon, reaching its all-time lowest price — as long as you get the black one. The controller includes a charging dock, and is compatible with everything from Windows and Android to Raspberry Pi, Steam Deck, and Apple devices.
The 8BitDo Ultimate Wireless controller is an Xbox-style gamepad with minimalist looks, a high degree of customisability, and wide compatibility. It has the usual top and bumper buttons and analogue triggers and joysticks, but also comes with a handful of extra features that make it worthwhile.
For starters, the underside of the controller has two customisable buttons, which can be assigned in 8BitDo's Ultimate Software. The rest of the controller's buttons are remappable via the software, too, and the joystick and trigger sensitivity is also customisable.
The controller is available in black, pastel pink, and white, but only the pastel pink and black colourways are on sale via Amazon. While the black controller is 20% off, or US$39.99, the pastel pink one is only 14% off, bringing the price down to US$42.99.
The Ultimate Wireless controller also comes with a handy USB type-C charging stand with a hidden USB port for the included dongle. This effectively makes the charging stand a stealthy range extender for the controller.
The black 8BitDo Ultimate Bluetooth controller (Amazon) features hall-effect joysticks and is also on sale. Although the discount on that is only 16%, bringing it down to US$69.99. The Bluetooth version is a step above the Ultimate Wireless controller, despite its identical build. It is compatible with the Nintendo Switch, and it has the hall-effect sensors that don't suffer from stick drift.
Julian van der Merwe – Magazine & Specialist News Writer – 458 articles published on Notebookcheck since 2022
My interest in tech started in high school, rooting and flashing my Motorola Defy, but I really fell down the rabbit hole when I realised I could overclock the i7 930 in my Gigabyte pre-built PC. This tinkering addiction eventually lead me to study product design in university. I think tech should improve the lives of the people using it, no matter the field. I like to read and write about laptops, smartphones, software and trends in technology.
Julian van der Merwe, 2023-11-15 (Update: 2023-11-15)