Microsoft's next huge Windows 11 feature update, code-named Windows 11 23H2, has a big addition: AI. Microsoft is readying for the era of the AI PC with the addition of Windows Copilot, powered by Bing Chat. And it will debut on Sept. 26 in preview form before a wider release in October, called the Windows 11 2023 Update.
It's the closest thing to a theme that we've seen within a Windows 11 update in some time. AI will power Windows Copilot, of course, but also recommended files in File Explorer and Start as well as a designated AI-specific section within the Microsoft Store app. You should also expect various small improvements across Windows, both in terms of ease-of-use and functional updates, like the ability to restore apps from a backup.
Microsoft unveiled the new update during press event on Sept. 21 in New York City, showcasing some of these new features. However, there's a small twist: the features that are coming to Windows 11 are arriving first in an update to the current version of Windows 11, Windows 11 22H2. Windows 11 23H2 will then roll out in the fourth quarter as a cumulative update that rolls up all of the new features. What does this mean to you? Not a whole lot, but the point is that you probably won't see all of these features right away.
When can you expect Windows 11 23H2 to arrive on your PC? Microsoft said that Windows 11 23H2 will be released on Sept. 26 in an update to Windows 11 22H2, before rolling out to all Windows 11 PCs later as Windows 11 23H2.
What will Windows 11 23H2 be known as? Windows 11 23H2 will be known as the Windows 11 2023 Update. The Windows 11 22H2 update is being delivered as KB5030310, also known as the "Cumulative Update Preview for Windows 11 Version 22H2 for x64-Based Systems."
How much will Microsoft charge for Windows 11 23H2? It will be a free update, and we have seen just a single small update feature that is reserved for the more expensive Windows 11 Pro.
How long will Windows 11 23H2 take to download and install? Though downloading Windows 11 23H2 can be done in the background, the installation/reboot process could take 20 minutes to a half hour, depending on how long Microsoft takes to apply the updates to your PC. Installing the Windows 11 22H2 patch (with Copilot included) took about five minutes on a 13th-gen Intel Core laptop with an SSD.
Microsoft will make Windows 11 23H2 available as a preview on September 26 ahead of a larger rollout in October. Previously, Microsoft has pushed updates via the Windows 11 update stack, shooting incremental code updates to your PC in a matter of moments. But with some of the fundamental changes Microsoft is adding to your PC, it's possible that Windows 11 23H2 may be a bit more involved. To date, Microsoft hasn't released Windows 11 23H2 to testers in its Release Preview Channel in one fell swoop, but in incremental updates alongside its more experimental Beta Channel.
Although Windows 11 23H2 will include fundamental changes to Windows, it will also include app updates as well. Here are what we believe the new features of Windows 11 23H2 will include, based upon what Microsoft has released publicly to its Windows Insider Release Preview channel and then what Microsoft has subsequently announced.
We've also noted what features we're seeing first in the Sept. 26 update Windows 22H2.
What's new in Windows 11 23H2 (and the Sept. 26 update to Windows 11 22H2)
Windows Copilot (now just Copilot)
Think of Windows Copilot as a combination of Bing Chat and Cortana: part cloud AI assistant, with the ability to process a few tasks locally on your PC. Make no mistake: launching Windows Copilot requires an Internet connection, and you'll have the same, neutral experience as you would using Bing Chat on the Web. (This is in our Windows 22H2 update build, KB5030310.)
Microsoft previously referred to Copilot as "Windows Copilot," with Copilots for Edge, and so on. Now it's all just one Copilot for your Windows PC, and without the "Windows".
The difference is that Copilot appears to be smart enough to help you through a few common tasks on your PC, without the need to dig through setup menus and control panels. When we tested Windows Copilot in June, it could switch to light or dark mode, take a screenshot, and little else. Copilot is more about potential than what it can do right now. If Microsoft adds enough to it make it a real-time, robust help tool, than Windows Copilot could be really something.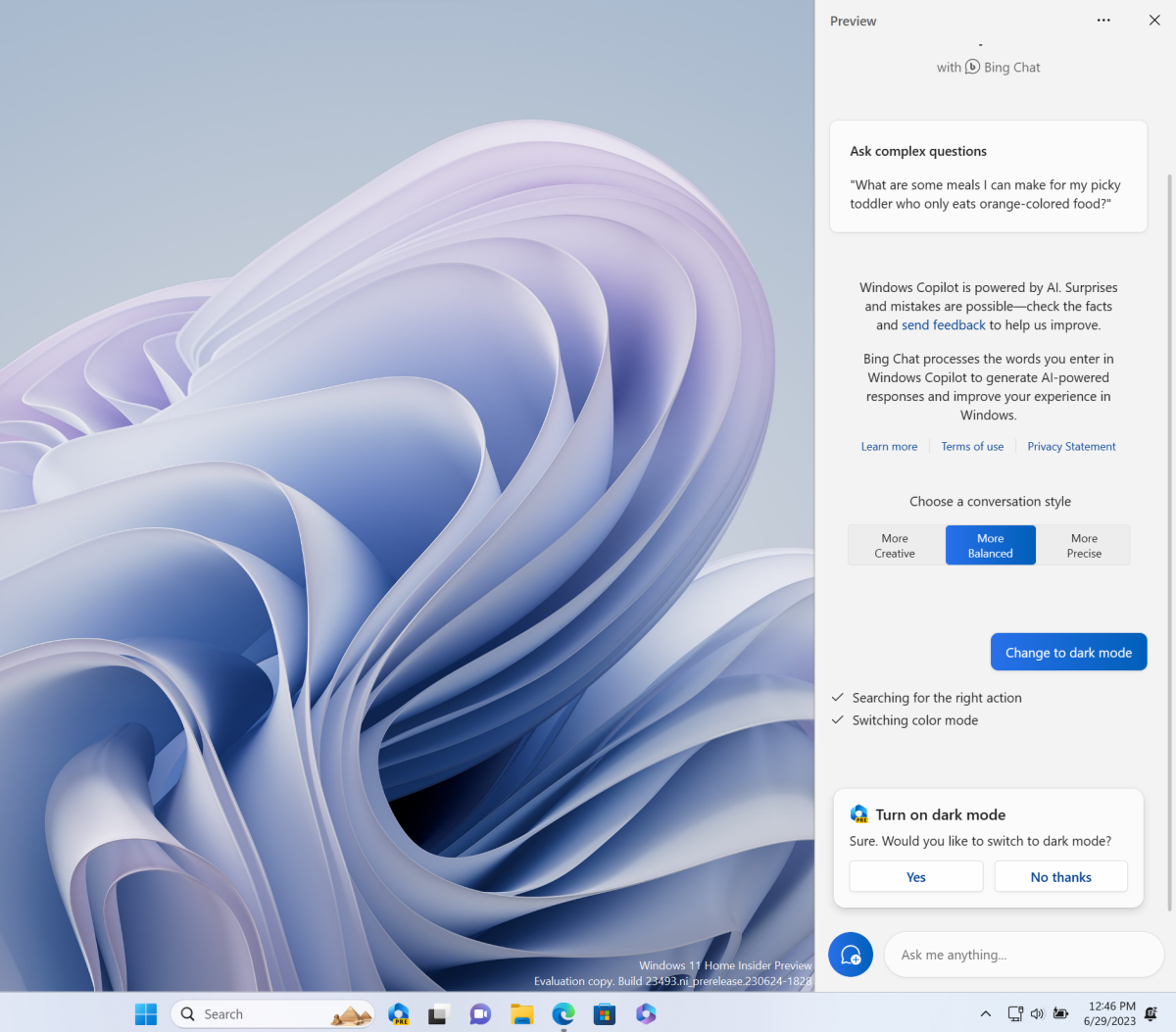 Mark Hachman / IDG
There's one hitch: Microsoft released Windows Copilot as a Dev Channel preview to date, though that might change soon.
An updated Settings home page
We know that there will be an updated Settings Home screen, as it's already there now in public Release Preview builds. (This is in our Windows 22H2 update build, KB5030310.)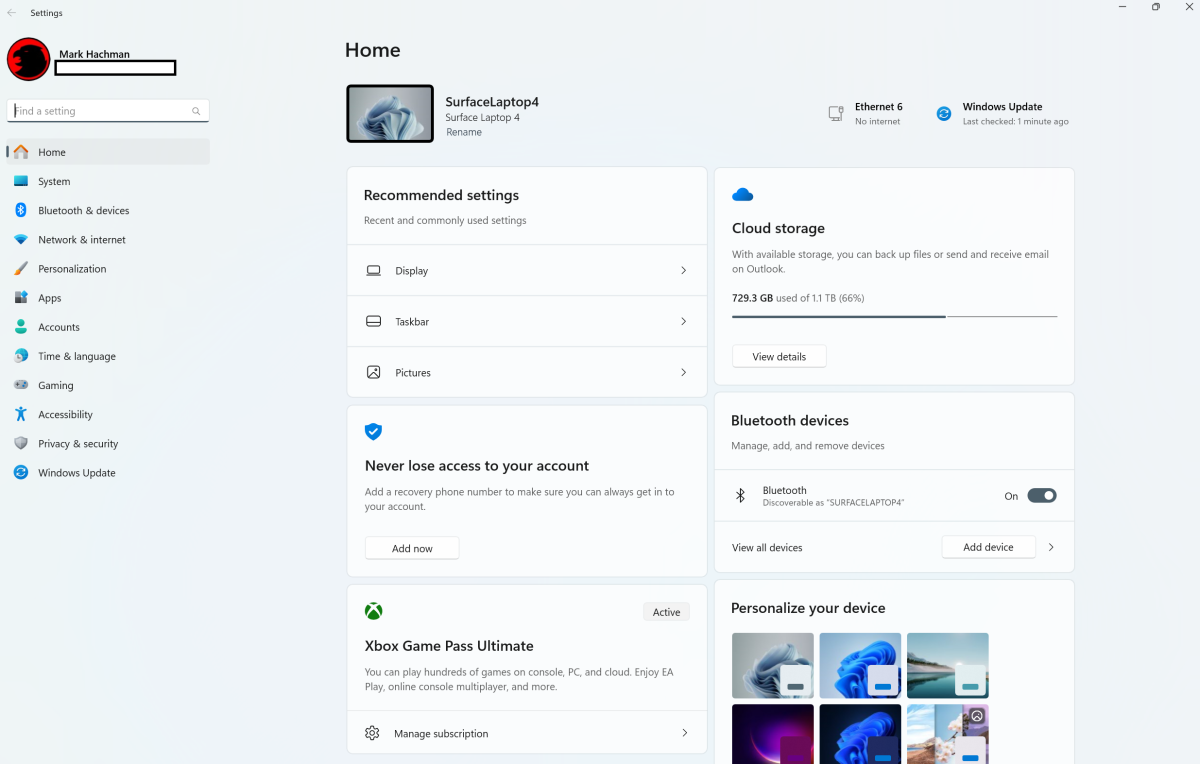 Mark Hachman / IDG
It might not be anything profound — just a summary of the various sub-pages within the Settings menu, all bundled together in a nice single-page summary that uses the available space on your screen. But it's a handy improvement anyway.
RGB lighting controls
Some people adore RGB lighting (especially those who don't have to sleep in the same room as their PC). Some people despise it. What we haven't had, to date, is a unified Windows control panel to manage RGB lighting across various peripherals, even though we've asked for it for years. Dynamic Lighting is Windows' answer to this longstanding problem.
(This is in our Windows 22H2 update build, KB5030310.)
Microsoft
What peripherals will support Windows 11's Dynamic Lighting control? Unfortunately, this still appears to be a long list of Razer peripherals, but perhaps more will be added soon.
AI-powered recommendations in File Explorer
In March (and then later in May), Microsoft told us that it was bringing AI-powered recommended files to File Explorer. You should see these as a new "carousel" of images at the top of File Explorer — through with a catch! You have to have a SharePoint account as well, which Microsoft will tap to prioritize files based upon their importance.
While we're not seeing the carousel view that Microsoft shows here, we are seeing "Recommended" files (or at least a section for them) and a new "Gallery" view that looks like Photos. (This is in our Windows 22H2 update build, KB5030310.)
Microsoft
Microsoft has also been making changes to File Explorer to better show off which files live in the cloud and which are on your PC. Hitting ALT + Shift + P to bring up the Properties menu of a file now emphasizes with whom it's been shared. Weirdly, this is where Windows 11 Pro comes into play.
If you have a Sharepoint account and Windows 11 Pro, you'll see this richer file preview. An example is below.
Microsoft
Windows Backup and Restore
Migrating to a new PC is something we've all done, and it can take time out of your day. Microsoft is introducing a new Windows Backup app — push everything to the OneDrive cloud! — as well as a new Out of the Box Experience (OOBE) to take that backup and migrate it to a new PC during the Windows 11 setup process. We haven't tried migrating from one PC to another, but we are seeing the Windows Backup app on our Windows 22H2 update build, KB5030310.
Users will see pins for their desktop app restored on the taskbar and Start Menu, including desktop apps that were not installed from the Microsoft Store, Microsoft says. Click on the pin and the app will download and install. (We wouldn't expect this for games you installed, say, via Steam, though.)
Microsoft
Passkeys
Passkeys are a simple, powerful tool: instead of asking for a password, a passkey can authenticate you to a website using biometrics — we've already seen this with some mobile apps, which require a fingerprint to log in. Windows is promising this, too.
Well, sort of. Microsoft has implied that we should be seeing a Settings page (Settings>Accounts>Passkeys) similar to how Edge stores passwords, where passkeys are stored instead. (This feature is in our Windows 22H2 update build, KB5030310.)
A new Volume Mixer in Quick Settings
I wrestle with the Volume Mixer on a regular basis, especially when I swap between headphones, earbuds, an ANC pair of headphones, or just an old Hardon Karmon Invoke that's now just a Bluetooth speaker. Microsoft appears to be bringing better audio controls to Windows, even potentially on a per-app basis. (This is in our Windows 22H2 update build, KB5030310.)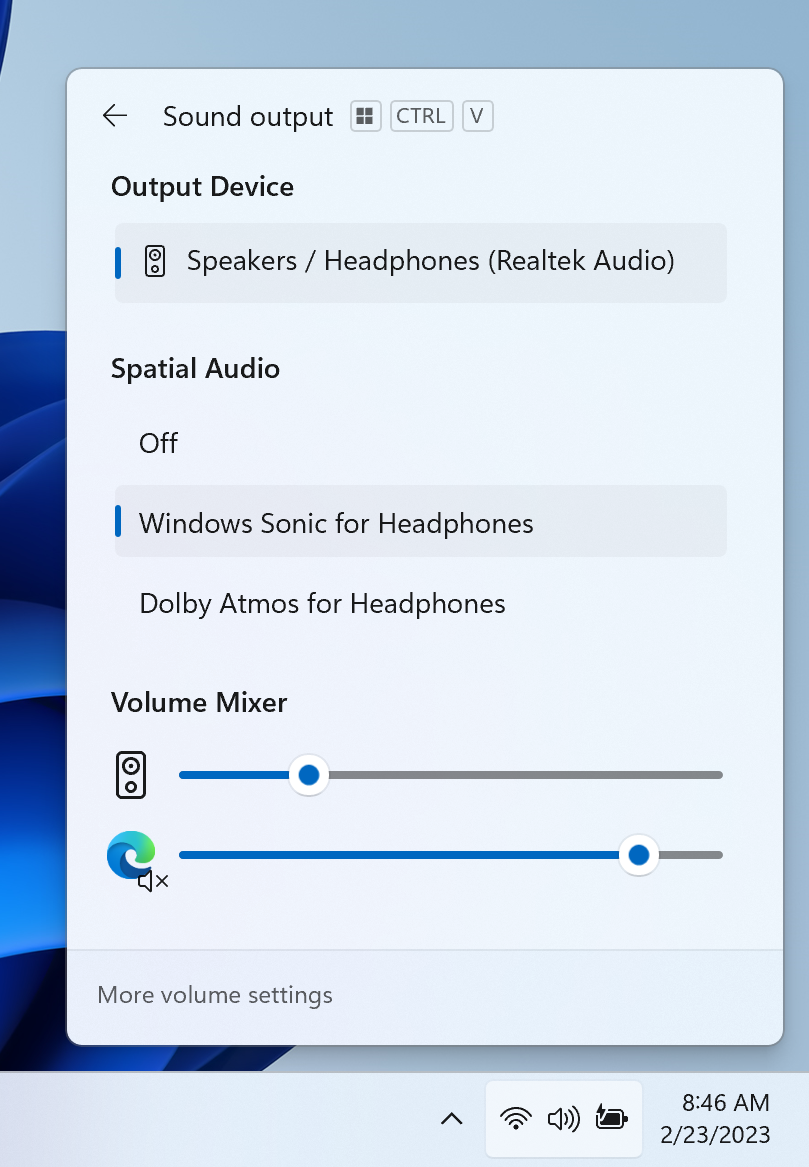 Microsoft
There's a new shortcut (WIN+CTRL+V) to control it all, too.
In-field inking for Windows Ink
It's easier to just say what this does. Ii you write "cat" inside of a Windows field (like a search box), Windows will interpret your inked word "cat" as you typing in "cat" into the same field. Simple, right? That's how you would expect inking to work, anyway, but it historically hasn't.
Microsoft has signaled that this feature is headed to Windows 11 23H2, and for those who ink on a regular basis (hello, Surface Pro 9 users!) this is welcome news.
Our test laptops don't include inking capabilities, but we'll try this later.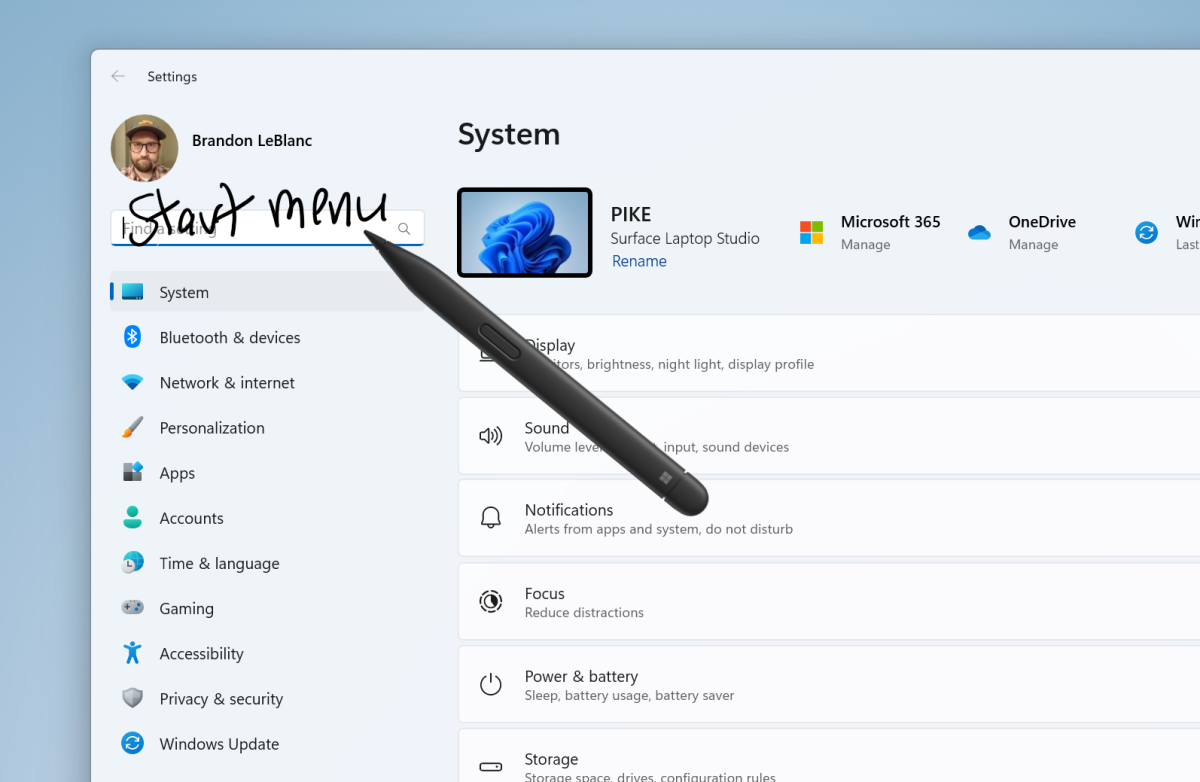 Microsoft
Improved Voice Editing and Controls
Voice editing with Windows is kind of fun. But it can always get better. Microsoft is adding new voice controls ("Select from [text 1] to [text 2]", or "bold that") as well as revamping the Voice access home page to make the list of commands easier to understand.
Microsoft is also expanding the list of English accents that are now supported, including the UK, India, Canada, Australia, and New Zealand.
Voice access (or voice control) is gaining more of a foothold, too, with Microsoft promising that you'll be able to log in with your PIN, via voice, if your PC is set up for it. A Windows Settings setting (Accessibility > Speech) allows you to turn on voice access before you sign into your PC. (This is in our Windows 22H2 update build, KB5030310.)
What's new in Windows 11 23H2
Microsoft has told us which features are arriving within Windows 11 23H2, and some of the features above are already released. We can assume that those below will either be released when Windows 11 2023 Update (23H2) launches, or before.
The Windows 11 Snipping Tool added screen capture late in 2022. Now, you'll be able to capture audio from the screen and your mic as well.
Snipping Tool is also adding the ability to extract text via OCR from anything you've captured, and, conversely, redact it. That's good news for those of us who capture screenshots with potentially personal, confidential information.
Photos' AI background blur and search
Microsoft announced background blur (aka the "portrait mode" found in smartphones) was coming to the Photos app. It's not quite here yet, though. Microsoft will also allow you to search the Photos archive by scene info, such as a "beach" shot.
An improved Paint app
Paint (Paint!) is getting transparency and layers, a real surprise for an app that was once left for dead. When combined with the recently added background removal tool, these new features now let you create rudimentary composite images in Paint. So far, we're seeing this in just a Windows Insider preview, but we think that this updated Paint should be there on or about the time Windows 11 23H2 launches.
Unfortunately, we're not seeing the updated Paint in our Windows 11 22H2 update, which is probably consistent with Microsoft's timeline.
Microsoft
Other tweaks in Windows 11 23H2:
Taskbar badging: Some people (me included, on occasion) like when an app pinned to the Taskbar shows you what it actually is, instead of an icon. This feature is in Personalization > Taskbar within the Settings menu in the Windows 11 22H2 update.
Wake on approach: Microsoft will dim your screen if you look away, and wake up your PC if it senses you nearby. You'll need a webcam that supports this, though, and Microsoft hasn't really detailed the hardware requirements. We're not seeing this yet in Windows 11 22H2.
Windows Spotlight improvements: I love Windows Spotlight, which gives me new, beautiful 4K wallpaper images daily. Microsoft is promising a better preview experience at full screen, with "multiple opportunities to learn more about each image and a minimized experience."
Sharing improvements: When you right-click and share a file, Microsoft is now leaning harder on making files available for Nearby Share, Windows' answer to AirDrop. This appears to be in Windows 11 22H2's update.
Instant Gaming: Microsoft is promising a tweak to the Microsoft Store app that will allow very small games to be "instantly" launched. So far, this seems to be reserved for Windows 11 22H3.
Screen casting: If you do a lot of switching between desktops, Microsoft may pop up a screen reminding you that Screen casting to other devices exists.
Emoji 15: Microsoft implied Emoji 15 (just released on Sept. 15) would arrive in Windows 11 23H2, though it has only debuted in the Beta Channel.
Copying 2FA codes from Notifications: If Your Phone is connected to your PC and you receive a 2FA code via text, Windows will recognize it and offer to copy it.
VPN logo: If you're running a VPN, Windows should show you a small logo to identify it.
Bing improvements: Bing is a cloud service, and not part of Windows, but it will add text-based image creation with Dall-E 3.
Clipchamp's AI composer: This is not tied to Windows 11 22H2 or even 22H3, but you should see an AI-powered creation option if you open Clipchamp.
This story was updated at 12: 33 PM on Sept. 26 with new information from Microsoft and our own testing.