SEC suspicions —

Execs' "messages discussing business have been handed to the SEC," report says.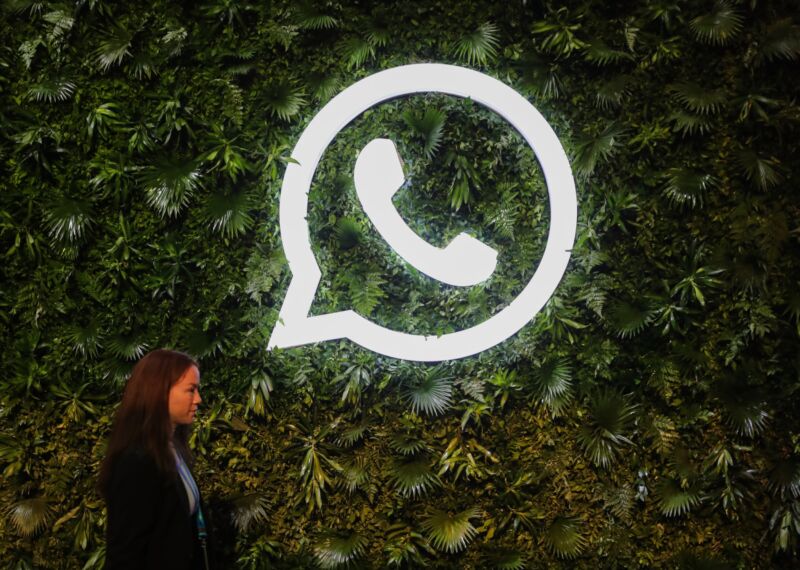 The US Securities and Exchange Commission has "collected thousands of staff messages from more than a dozen major investment companies" as it expands a probe into how employees and executives at Wall Street firms use private messaging platforms such as WhatsApp and Signal, Reuters reported today, citing "four people with direct knowledge of the matter."
Firms being investigated include Carlyle Group, Apollo Global Management, KKR & Co., TPG, Blackstone, and hedge fund companies including Citadel, Reuters wrote. Senior executives are among the employees whose messages were reportedly collected.
"The executives gave their personal phones and other devices to their employers or lawyers to be copied, and messages discussing business have been handed to the SEC, three people said," according to Reuters.
The SEC is apparently collecting more messages in this probe of investment advisers than it did in previous probes targeting broker-dealers. In the earlier broker-dealer investigations, "the SEC asked companies to review staff messages and report to the agency how many discussed work," Reuters wrote. "SEC staff reviewed only a sample of messages themselves, according to three sources with knowledge of the previous investigations."
The SEC declined to comment when contacted by Ars today. The government has been investigating how Wall Street firms keep track of employee communications for about two years, and the probes have already resulted in over $2 billion in fines for recordkeeping failures and use of unapproved communication methods.
As Reuters noted, the use of private messaging services that aren't monitored by employers "has dogged Wall Street compliance departments for years. Because companies do not surveil personal messaging channels, using them to discuss business puts SEC-regulated employers in breach of requirements to record all business communications."
Investment advisory firms have criticized the SEC demands, "arguing their recordkeeping requirements are narrower than broker-dealers'," Reuters wrote. The Managed Funds Association industry group was quoted as saying that "unilaterally expanding the rules by enforcement actions sidesteps due process and creates a dangerous precedent."
11 companies fined last month
On August 8, the SEC said it charged 11 Wall Street firms with "widespread recordkeeping failures" related to the use of messaging platforms on personal devices. The firms "acknowledged that their conduct violated recordkeeping provisions of the federal securities laws" and "agreed to pay combined penalties of $289 million," the SEC said.
"Today's actions stem from our continuing sweep to ensure that regulated entities, including broker-dealers and investment advisers, comply with their recordkeeping requirements, which are essential for us to monitor and enforce compliance with the federal securities laws," SEC Deputy Director of Enforcement Sanjay Wadhwa said at the time. "Recordkeeping failures such as those here undermine our ability to exercise effective regulatory oversight, often at the expense of investors."
In the August 2023 case, Wells Fargo agreed to pay the biggest fine of $125 million. The firms also agreed to "improvements to their compliance policies and procedures to address these violations," the SEC said. The SEC summarized its findings as follows:
[T]he firms admitted that from at least 2019, their employees often communicated through various messaging platforms on their personal devices, including iMessage, WhatsApp, and Signal, about the business of their employers. The firms did not maintain or preserve the substantial majority of these off-channel communications, in violation of the federal securities laws. By failing to maintain and preserve required records, certain of the firms likely deprived the Commission of these off-channel communications in various SEC investigations. The failures involved employees at multiple levels of authority, including supervisors and senior executives.
In separate actions also announced on August 8, the Commodity Futures Trading Commission (CFTC) ordered four firms to pay $260 million in fines for recordkeeping and supervision failures related to "widespread use of unapproved communication methods." That included $75 million fines each for Wells Fargo, BNP Paribas, and Société Générale. A $35 million fine was issued to the Bank of Montreal.
In September 2022, the SEC announced fines totaling $1.1 billion against 10 firms, including Barclays, BofA Securities (formerly Bank of America Merrill Lynch), Citigroup Global Markets, Credit Suisse Securities, Deutsche Bank Securities, Goldman Sachs, Morgan Stanley, and UBS Securities. Also in September 2022, the CFTC ordered 11 companies to pay over $710 million in fines.