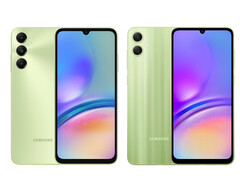 Samsung has now introduced the Galaxy A05 and Galaxy A05s, two successors to the Galaxy A04. Arriving with different SoCs and display resolutions, the pair share 5,000 mAh batteries, 6 GB of RAM, 128 GB of expandable storage and 50 MP primary cameras.
Samsung has unveiled the Galaxy A05 and Galaxy A05s, two successors to the Galaxy A04s. Despite having similar names, Samsung has only equipped the Galaxy A05 and Galaxy A05s with comparable components in a few areas. For example, the pair both feature 50 MP primary and 2 MP depth cameras. However, the Galaxy A05s adds a 2 MP macro camera and has a 13 MP front-facing sensor instead of the 8 MP equivalent that graces the Galaxy A05.
Additionally, both smartphones have 6.7-inch IPS panels. With that being said, while the Galaxy A05 makes do with a 720p panel, Samsung affords a 1080p panel for the Galaxy A05s. Seemingly, both models have 60 Hz panels, unlike many other recent Galaxy A series smartphones. Moreover, Samsung equips the Galaxy A05 with a MediaTek Helio G85, a 12 nm chipset that falls about 10% short of the Qualcomm Snapdragon 680 that underpins the Galaxy A05s.
Furthermore, Samsung installs 6 GB of RAM and 128 GB of expandable storage in each device, as well as a 5,000 mAh battery. Elsewhere, the Galaxy A05 and Galaxy A05s will ship with Android 13, USB Type-C ports and 3.5 mm jacks. Currently, Samsung has only listed the Galaxy A05 series in Malaysia, albeit without any pricing details at the time of writing.
Alex Alderson – Senior Tech Writer – 8652 articles published on Notebookcheck since 2018
Prior to writing and translating for Notebookcheck, I worked for various companies including Apple and Neowin. I have a BA in International History and Politics from the University of Leeds, which I have since converted to a Law Degree. Happy to chat on Twitter or Notebookchat.
Alex Alderson, 2023-09-25 (Update: 2023-09-25)