A man who likes sorbet —

"I am confident that Blue Origin's greatest achievements are still ahead of us."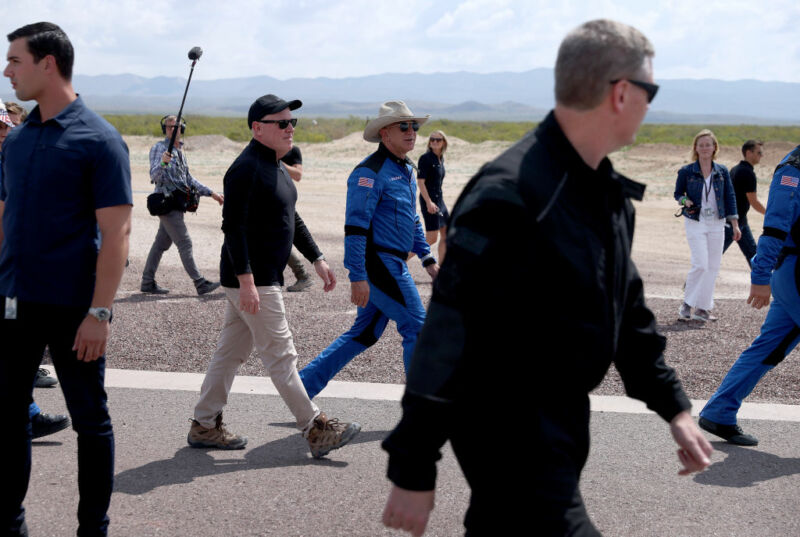 After six years of running Blue Origin, Bob Smith announced in a company-wide email on Monday that he will be "stepping aside" as chief executive of the space company founded by Jeff Bezos.
"It has been my privilege to be part of this great team, and I am confident that Blue Origin's greatest achievements are still ahead of us," Smith wrote in an email. "We've rapidly scaled this company from its prototyping and research roots to a large, prominent space business."
Shortly after Smith's email, a Blue Origin spokesperson said the company's new chief executive will be Dave Limp, who stepped down as Amazon's vice president of devices and services last month.
"Dave is a proven innovator with a customer-first mindset," the spokesperson said. "He has extensive experience in the high-tech industry and growing highly complex organizations, including leading Amazon's Kuiper, Kindle, Alexa, Zoox, Fire TV, and many other businesses."
Limp will join Blue Origin in December and become chief executive of the company at that time.
Not great, Bob
To put things politely, Smith has had a rocky tenure as Blue Origin's chief executive. After being personally vetted and hired by Bezos, Smith took over from Rob Meyerson in 2017. The Honeywell engineer was given a mandate to transform Blue Origin into a large and profitable space business.
He did succeed in growing Blue Origin. The company had about 1,500 employees when Smith arrived, and the company now employs nearly 11,000 people. But he has been significantly late on a number of key programs, including the BE-4 rocket engine and the New Glenn rocket.
As a space reporter, I have spoken with dozens of current and former Blue Origin employees, and virtually none of them have had anything positive to say about Smith's tenure as chief executive. I asked one current employee about the hiring of Limp on Monday afternoon, and their response was, "Anything is better than Bob."
Although it is very far from an exact barometer, Smith has received consistently low ratings on Glassdoor for his performance as chief executive of Blue Origin. And two years ago, a group of current and former Blue Origin employees wrote a blistering letter about the company under Smith. "In our experience, Blue Origin's culture sits on a foundation that ignores the plight of our planet, turns a blind eye to sexism, is not sufficiently attuned to safety concerns, and silences those who seek to correct wrongs," the essay authors wrote.
With any corporate culture, there will be growing pains, of course. But Smith brought a traditional aerospace mindset into a company that had hitherto been guided by a new space vision, leading to a high turnover rate. And Blue Origin remains significantly underwater, financially. It is likely that Bezos is still providing about $2 billion a year to support the company's cash needs.
Crucially, as Blue Origin meandered under Smith's tenure, SpaceX soared, launching hundreds of rockets and thousands of satellites. Smith, clearly, was not the leader Blue Origin needed to make the company more competitive with SpaceX in launch and other spaceflight activities. It became something of a parlor game in the space industry to guess when Bezos would finally get around to firing Smith.
Alexa, put something into orbit
To make Blue Origin more competitive, Bezos needs to get this hire right.
Originally a computer scientist, Limp began his career at Apple in the mid-1980s and served as director of the North and South American PowerBook division. He has also worked in venture capital and as chief strategy officer of Palm before joining Amazon in 2010.
At Amazon, Limp had a high-profile job overseeing the development of the company's consumer electronic devices, including the Kindle, Fire TV, and Echo, as well as the Alexa voice assistant. Some of the shine on Limp's star seemingly wore off in recent years, as Alexa has been perceived to be a "colossal failure" by some accounts and, partly at least, led to Amazon shedding 10,000 jobs.
Limp has some space experience, as his division also oversaw the development of the Project Kuiper megaconstellation, a competitor with SpaceX's Starlink Internet service that seeks to deliver high-bandwidth Internet from low-Earth orbit.
He arrives at Blue Origin with a lot of work to do. The company has major programs, including the heavy-lift New Glenn rocket, the Blue Moon lunar lander, and the Orbital Reef space station in the development phase. He must balance these initiatives with the company's ongoing work to scale production of the BE-4 rocket engine as well as the New Shepard suborbital spacecraft.
Limp will likely need to prioritize some of these efforts to ensure that at least some of the programs ultimately reach fruition. The sooner he makes these decisions, the brighter Blue Origin's future will likely be.