blue oval battery park michigan no more? —

The site was going to make lithium iron phosphate cells for electric vehicles.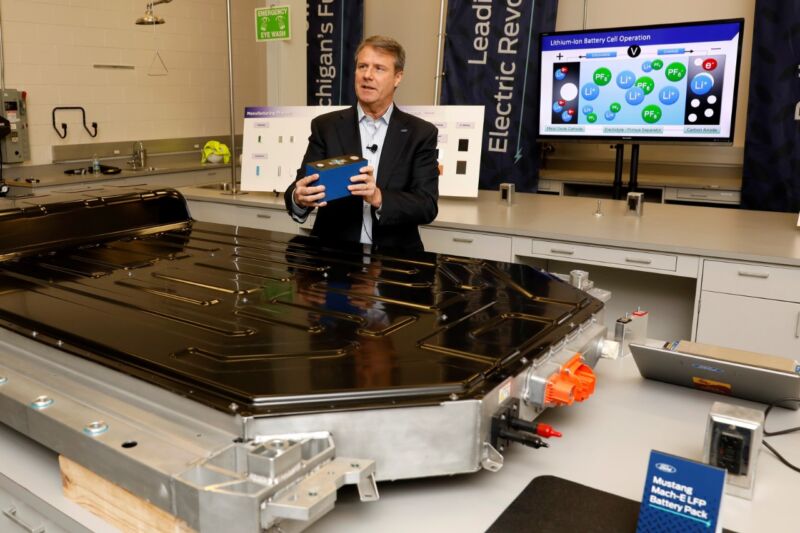 The past couple of years have seen a flurry of newly announced battery factories in North America. The Inflation Reduction Act of 2022 is the main reason—it ties an electric vehicle's federal tax credit to domestically sourced batteries, among other conditions, so automakers have been scrambling to build that capacity locally. But today's news is rather more unusual. According to the Detroit News, Ford is pushing pause on one such facility, suspending all work on the $3.5 billion project.
The plant in question is called Blue Oval Battery Park Michigan, located in Marshall, Michigan. Ford announced the new site in February, which it said would be responsible for making lithium iron phosphate (LFP) cells. This is a less energy-dense chemistry than lithium-ion chemistries (like nickel cobalt manganese or nickel cobalt aluminum), but it can tolerate more charging cycles and is cheaper to make.
Intellectually property issues have meant LFP cells have been uncommon in EVs outside of China, but that's beginning to change; Tesla fits some of its EVs with LFP cells, and Ford secured supplies of LFP cells from the Chinese battery company CATL for use in the Mustang Mach-E crossover and, from next year, the F-150 Lightning pickup truck.
The plan was for Blue Oval Battery Park Michigan to come on stream in 2026, with an annual capacity of 35 GWh, enough for 400,000 EVs. The price tag? $3.5 billion.
Ford has decided to save that money for now. "We're pausing work, and we're going to limit spending on construction at Marshall until we're confident about our ability to competitively run the plant," a Ford spokesperson told the Detroit News, adding that no final decision had been made about Blue Oval Battery Park Michigan.
Ford has three other North American battery factories under construction. These are a joint venture with SK Innovation, with two in Kentucky and a third in Tennessee.