At a glance
Expert's Rating
Pros
Syncs to online services, including S3 and compatibles
Scads of options, highly configurable
Fast and reliable
Backs up and syncs with iOS, Android, and Windows devices
Cons
Only the Pro version backs up online
Occasionally tricky interface
Our Verdict
SyncBack Pro's vast array of options, wide variety of destinations, mobile device support, and excellent performance make it a top choice for IT and prosumers. End users should kick the tires first though — it can be a bit of a handful.
Best Prices Today: SyncBack 11 backup software
SyncBack from 2BrightSparks is file-level sync/backup software that comes in three flavors: Free, the $39.95 SE, and the $54.95 Pro that's reviewed here. The free version is of course useful, but there's a lot of free backup alternatives around, including Microsoft's own File History.
SE is good for local and local network use, but by far the most compelling version in my book is Pro, which backs up to online services — including the S3-compatible repositories, which are becoming more and more commonplace.
Further reading: See our roundup of the best Windows backup software to learn about competing products.
SyncBack Pro features and options
If there's a cleaner-looking interface on a backup program than SyncBack Pro's, I'm unaware of it. You can also show and hide most interface elements to make the appearance even cleaner. While easy on the eye, the program also provides tons of feedback and info on what's going on. The log view is marvelously granular.
SyncBack Pro is versatile in that it backs up, syncs, and mirrors to local (USB drives, network shares, etc. ) and online destinations such as Amazon S3, Dropbox, OneDrive, etc. The SE and Pro versions will also back up and sync with portable devices.
The backup is not traditional as there are no incremental/differential options that retain the original data. There is, however, support for versioning in the SE and Pro SKUs (found under the expert settings). I highly recommend enabling it for backup jobs, otherwise, you'll risk overwriting old files you might need (depending on file conflict settings).
SyncBack is also the most option-laden, configurable backup program I've reviewed. For example there are four Run options: attended, unattended, without showing the Differences window, or without allowing Action changes. Filtering, scheduling, and the aforementioned versioning options are extensive, to say the least, and there's no feature available in other file-level backup programs that's not in SyncBack as well. See below.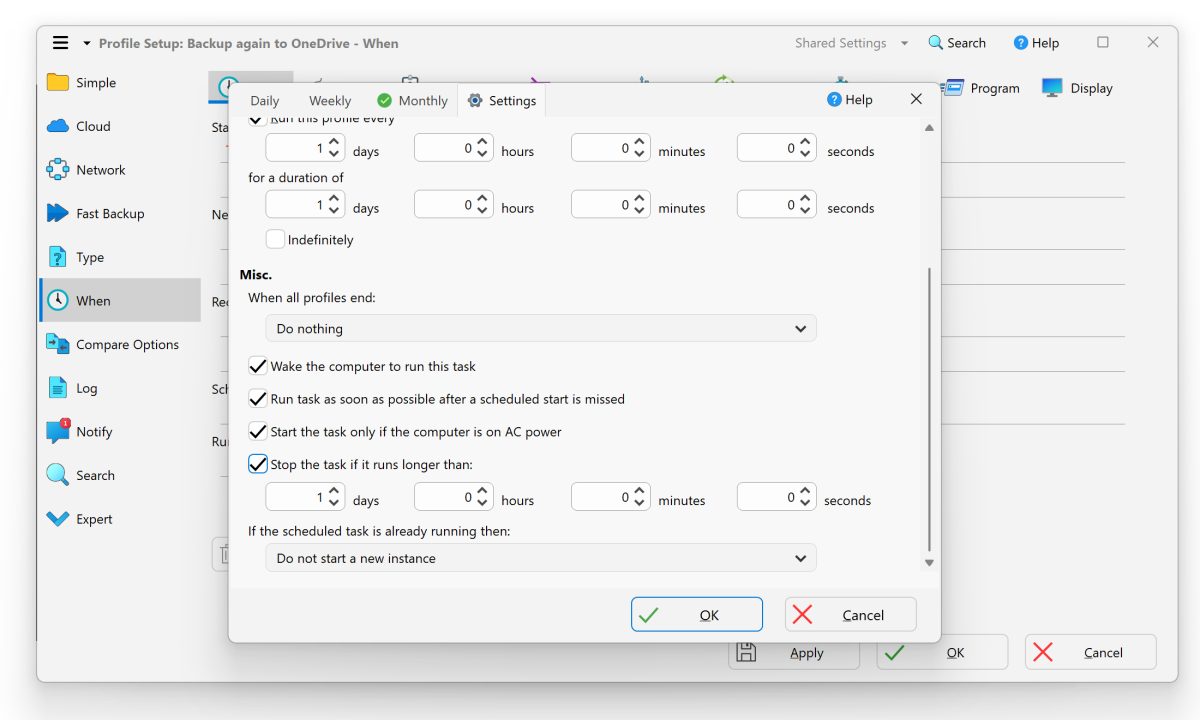 While the copious options (far more than I list or talk about) and feedback SyncBack provides are great, the interface and workflow can be "interesting" at times. For instance, the logic behind using the term "profile" for tasks as well as sources and destinations escapes me.
There are other idiosyncrasies, but I'll leave it at that because in total, the program works and can be made to work almost any way you wish. There is some hand-holding and a well-written help file, but it still requires a deep dive and some time to get the most out of it.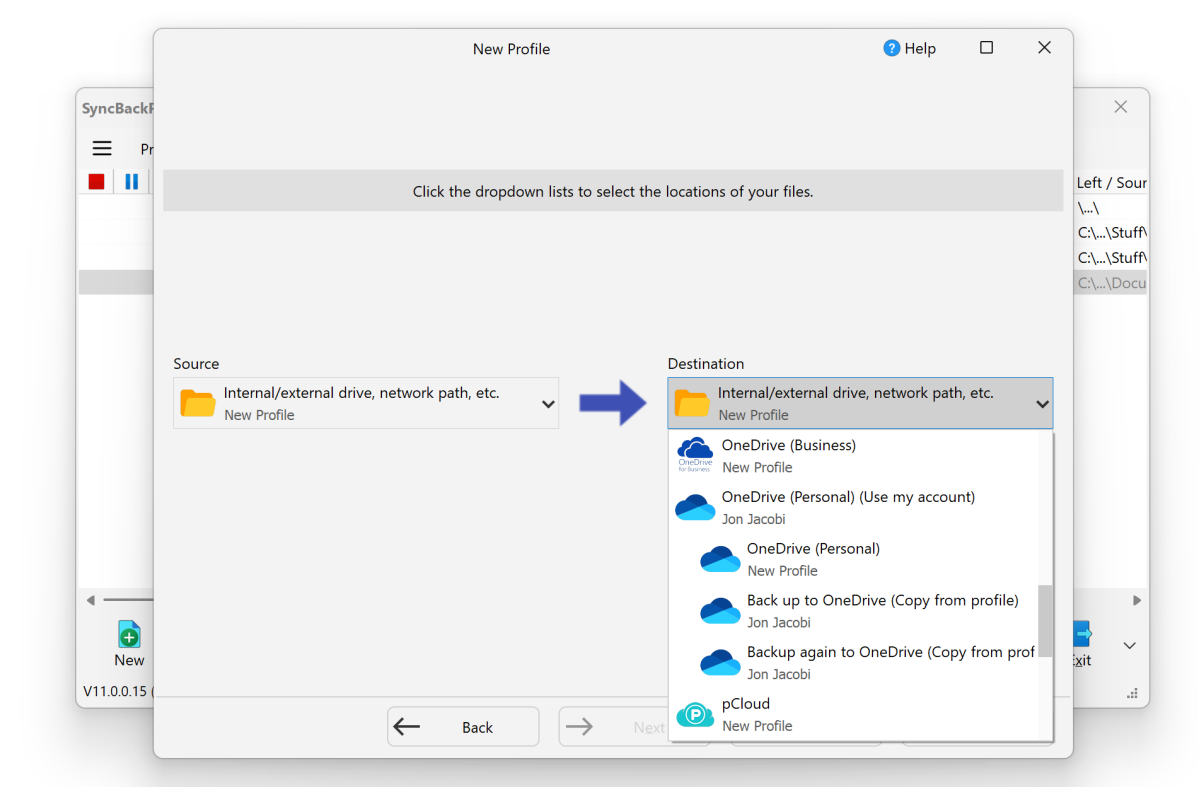 One thing I found decidedly useful was the option to simulate a backup without actually copying stuff. This can be very handy for sorting out possible issues and making sure you haven't done something stupid, especially in operations that might delete something. Don't ask.
As to backing up or syncing your devices, the SyncBack Touch client is available for iOS, Windows, and Android (again, SE and Pro only). You can even automate it so that it occurs whenever the device connects to your local network. Even if you sync to online storage, it's good to have a local backup for faster restores.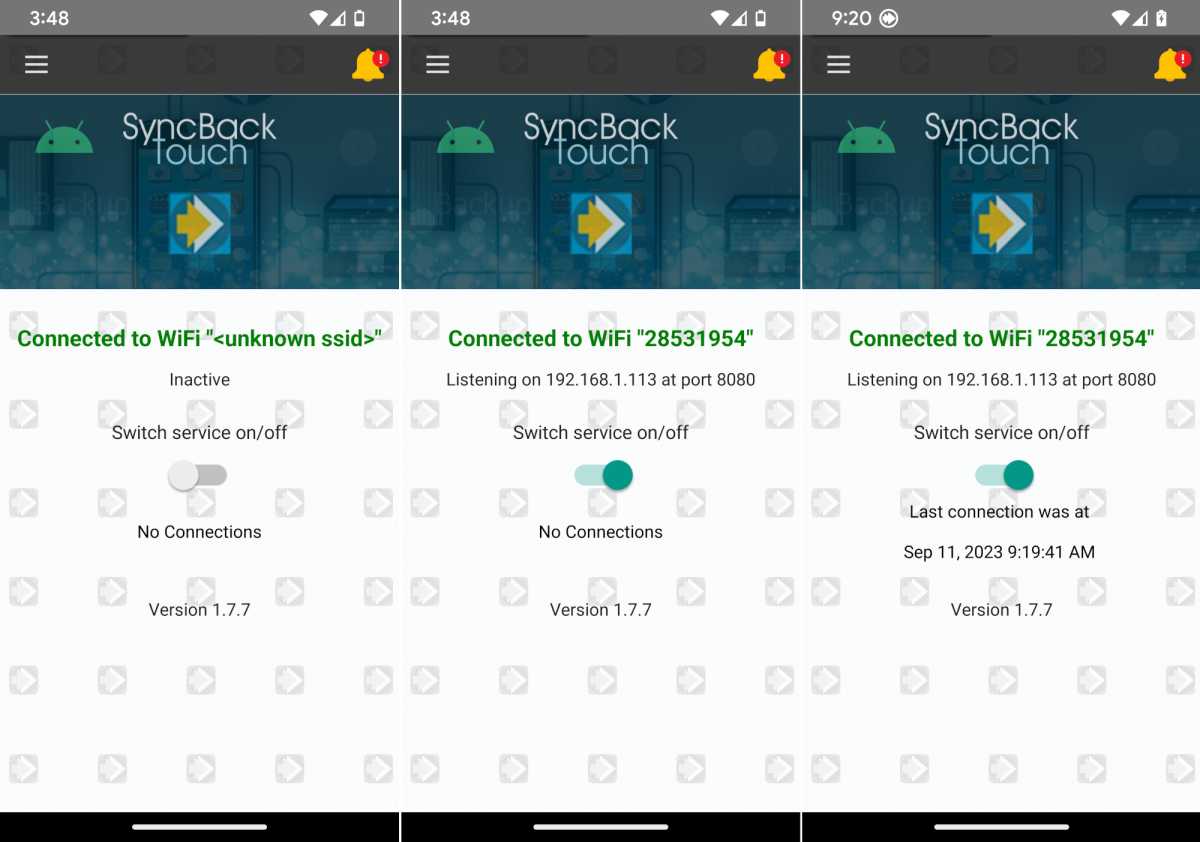 How does SyncBack 11 Pro perform?
I tested SyncBack Pro with local drives, local network destinations, Dropbox, OneDrive, and Storj — the latter being an S3-compatible service with 25GB of free storage.
I also backed up my Android phone using the client. It was a straightforward deal to connect with said client, though you have to dive into the client settings to find the device name.
There were zero issues during operations, which is what I like to see from any backup program (bullet-proof is a good thing when data is at stake). Transfers went off at top speed, commensurate with the various destinations, the internet connection being an obvious limiting factor for online work as well as Wi-Fi with the Android phone.
Also, it was easy to sign into services, though I think the Authorize button should be the only thing visible until you've defined the online destination. Disabled user name and password fields just confuse the issue.
Overall, however, I couldn't be more pleased with how SyncBack Pro performed. Solid.
Is SyncBack 11 Pro worth it?
While I find SyncBack's interface a tad arcane, in the end it works extremely well, and the vast sea of options and capabilities make the program well worth the effort. The Pro version is on par price-wise with other programs supporting online destinations, so no complaints there. Good stuff.
My only caveat is that the program might be bit of steep climb for the average user. Check out the free version and trials to make sure it's for you.