Microsoft's Surface Laptop Studio 2 is an update to its dynamic, unique predecessor, refreshed with a 13th-gen Intel Core chip and a dedicated AI processor, too.
Microsoft updated three of its Surface laptops with new components at its fall event on Thursday, adding the Surface Laptop Studio 2, the Surface Laptop Go 3, and the Surface Go 4 for Business to fill various niches in its lineup. Microsoft also quietly announced a Surface Hub 3 for businesses.
While none of the hardware updates are hugely noteworthy, some of the circumstances surrounding the event are. For one, the soul of the Surface brand, Panos Panay announced he would leave Microsoft just this week, days before Microsoft's Surface launch took place. And none of the new Surfaces will include Intel's Core Ultra or "Meteor Lake" chips: Intel's latest processor, but also one that leans heavily on the AI features that Microsoft will lean into with Windows 11 23H2 and beyond.
The Surface Laptop Studio 2 will range in price from $1,999 to a whopping $3,699, and is available for preorder to ship on Oct. 3.
Microsoft is expected to release its new Surface hardware in conjunction with its latest Windows 11 feature update, known as Windows 11 23H2.
Surface Laptop Studio 2: what's new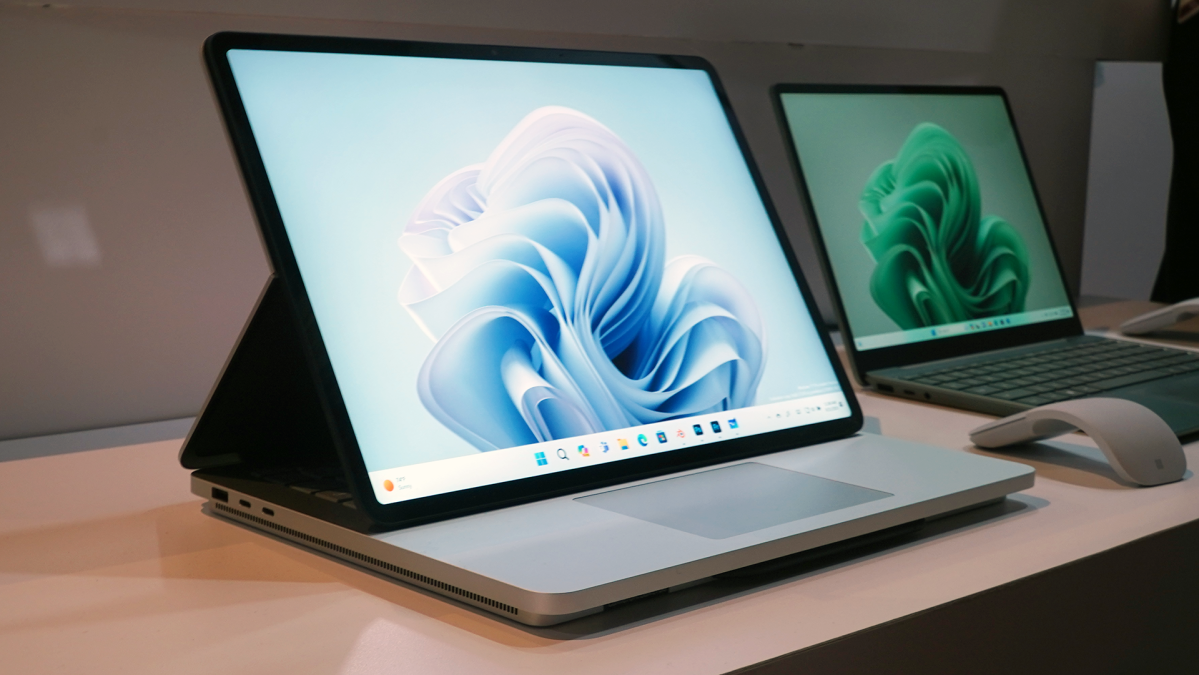 Michael Crider/IDG
From a hardware standpoint, the existing Surface Laptop Studio is among Microsoft's best. Omitting an Editor's Choice award from our Surface Laptop Studio review feels a little cheap in retrospect, but the Surface Laptop Studio lineup has never come cheap. The pull-forward display (14.4-inch PixelSense Flow, 2400×1600,120Hz) design is still there in the Surface Studio 2, and we're fairly certain Microsoft has maintained the superb speakers that made the Laptop Studio a sublime multimedia experience.
What's new? The insides. The Surface Laptop Studio 2 includes the 13th-gen "Raptor Lake-H" processors Intel launched this past January, specifically the Core i7-13700H and the Core i7-13800H processors. (The latter is for a commercial version.)
Remember, the Surface Laptop Studio line are "creator-class" notebooks: not really gaming machines, but machines designed for streaming, video editing, CAD work, and more. As such, the Surface Laptop Studio 2 contains both the Nvidia GeForce RTX 4050 (6GB GDDR6) and GeForce RTX 4060 (8GB GDDR6) discrete GPUs — both parts that fall into the low end of the RTX 4-series lineup, but should prove immensely helpful for content creators. Oddly, there's also an RTX 2000 option on the Surface Laptop Studio 2, too, for some reason?
What's really interesting is that Microsoft has also called out the AI chip inside the Surface Studio 2, too. It's an Intel Gen3 Movidius 3700VC VPU AI Accelerator — most likely the same one as is in the Samsung Galaxy Book3 series and the Surface Pro 9. But it's the first time we've seen this called out by name, and it's likely used to help accelerate the new AI features being woven deeply into Windows 11's new update.
Michael Crider/IDG
Microsoft has also pumped up the internal memory and storage configurations, too. While 16GB of RAM is common, 32GB is not — and a new 64GB option pushes into workstation territory as far as RAM is concerned. There's a jump to LPDDR5, too. Video editors will be pleased to see that there are 512GB, 1TB, and even 2TB options available.
Though the chassis remains virtually unchanged, there are two small tweaks: a USB-A port, and a microSD card slot. While customers could fill those legacy I/O gaps with a USB-C hub, including those ports are just conveniences. A pair of Thunderbolt 4 ports remain for higher-speed expansion to Thunderbolt docks. There's still a Surface Connect port, too! Otherwise, WiFi 6E and Bluetooth 5 round out the connectivity options.
Only Windows 11 Home is offered; there are no Windows 10 or Windows 11 Pro options, a somewhat peculiar choice given the Surface Laptop Studio 2's heavy focus on content creation.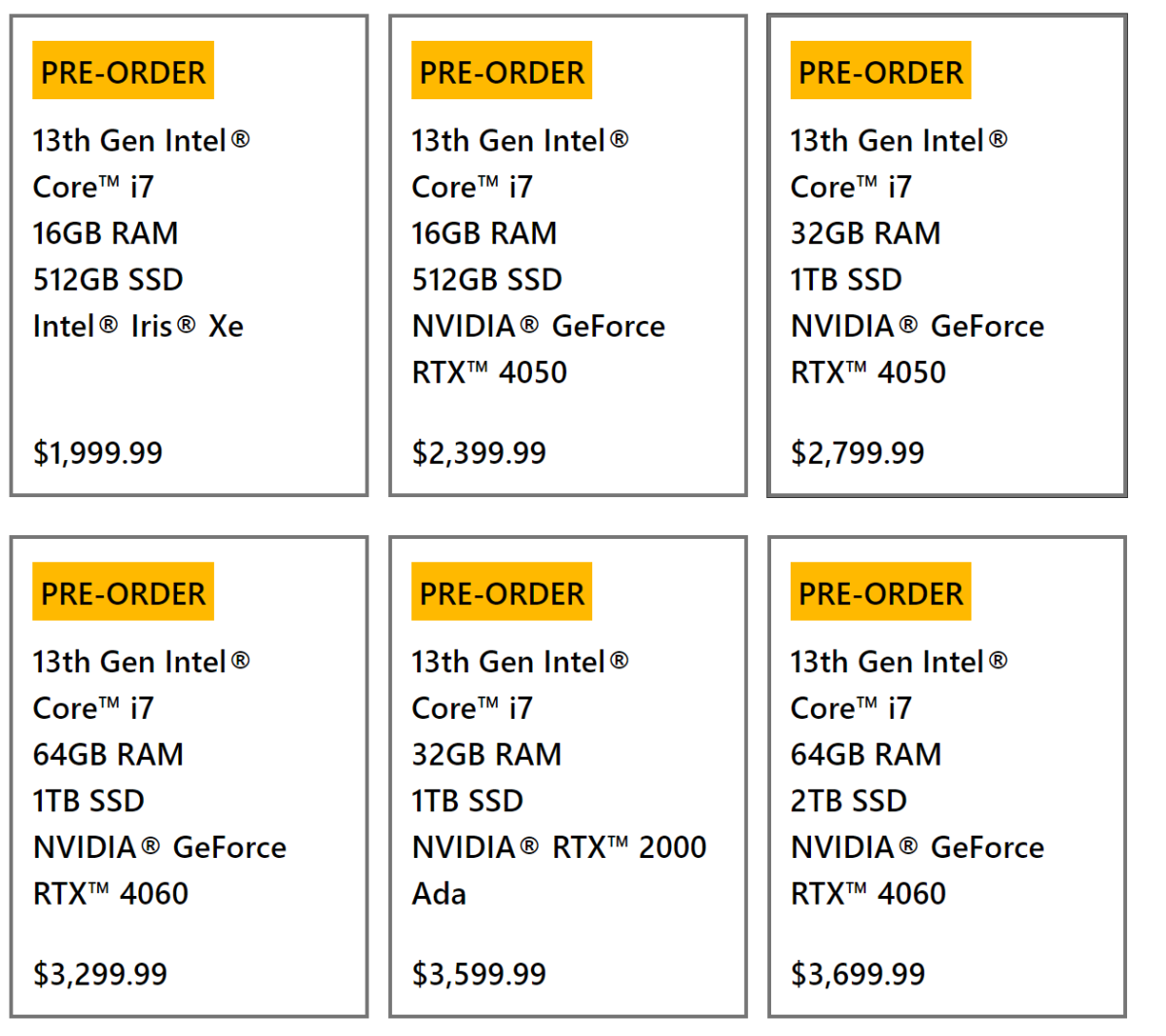 IDG
Surface Laptop Studio 2 specs
Display:  14.4-inch PixelSense Flow touch display (2400×1600 (201 PPI), 120Hz), 500-650nits
Processor: Intel Core H35 i7-13700H, Core i7-13800H
Graphics:  Nvidia GeForce RTX 4050/4060, or RTX 2000 or Iris Xe
Memory:  16GB/32GB/64 LPDDR5X RAM (32GB as tested)
Storage: 512GB, 1 TB, 2TB SSD (all removeable) (1 TB as tested)
Ports:  2 USB-C (Thunderbolt 4/USB 4.0), 1 Surface Connect, USB-A, microSDXC, 3.5mm headphone jack
Camera: User-facing: 1080p with Windows Studio Effects
Battery:  19 hours (Iris Xe) to 16 hours (2 TB models)
Wireless:  802.11 ax (Wi-Fi 6); Bluetooth 5.1
Operating system:  Windows 11 Home
Dimensions (inches):  12.7 x 9.1 x 0.86in
Weight:  4.18 to 4.37lbs
Color:  Platinum
Price:  $1,999 to $3,699