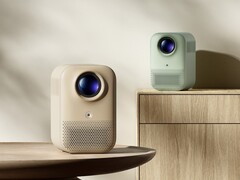 The Redmi Projector 2 and the Redmi Projector 2 Pro are now on sale in China. The gadgets are brighter than the original models, with the Pro offering up to 300 CVIA lumens brightness. Other features include built-in speakers, voice commands, automatic focus and screen alignment tools.
Xiaomi has launched the Redmi Projector 2 and Redmi Projector 2 Pro in China. The new models are an upgrade on the original Redmi Projector and Redmi Projector Pro which launched last year. Both devices are brighter, according to Xiaomi, with the standard model's light source generating 180 CVIA lumens and the Pro 300 CVIA lumens; the older generation has a peak brightness listed as 150 ANSI lumens, so this is not directly comparable.
The Redmi Projector 2 series has a maximum recommended image size of 100-in (~254 cm) with a 1.2:1 throw ratio and a 1080p resolution. Smart image-perfecting tools include autofocus, screen alignment and obstacle avoidance, with the Pro model described as using a ToF laser sensor and HD camera for more accurate adjustments. The projector has two built-in 3W speakers, Bluetooth connectivity, HDMI ARC and USB 2.0 ports. You can add the gadget to your smart home ecosystem and control the device with voice commands.
The Redmi Projector 2 is available in sand or green, while the Pro comes in black. You can now pre-order the Xiaomi Redmi Projector 2 in China for the discounted price of 999 yuan (~US$137) with a 50 yuan (~US$7) deposit. After this pre-sale period, the price will increase to 1,299 yuan (~US$178). The Xiaomi Redmi Projector 2 Pro retails for 1,699 yuan (~US$233), currently priced at 1,399 yuan (~US$191). Whether or not the company intends to launch the products globally remains to be determined.
Polly Allcock – Tech Writer – 1656 articles published on Notebookcheck since 2021
I've been interested in technology for as long as I can remember. From a young age, I have loved gadgets and understanding how things work. Since graduating, I have worked for several technology companies across FinTech, AdTech and Robotics.
Polly Allcock, 2023-09-21 (Update: 2023-09-21)