go go go —

The Surface Go tablet also gets an update, but only for business customers.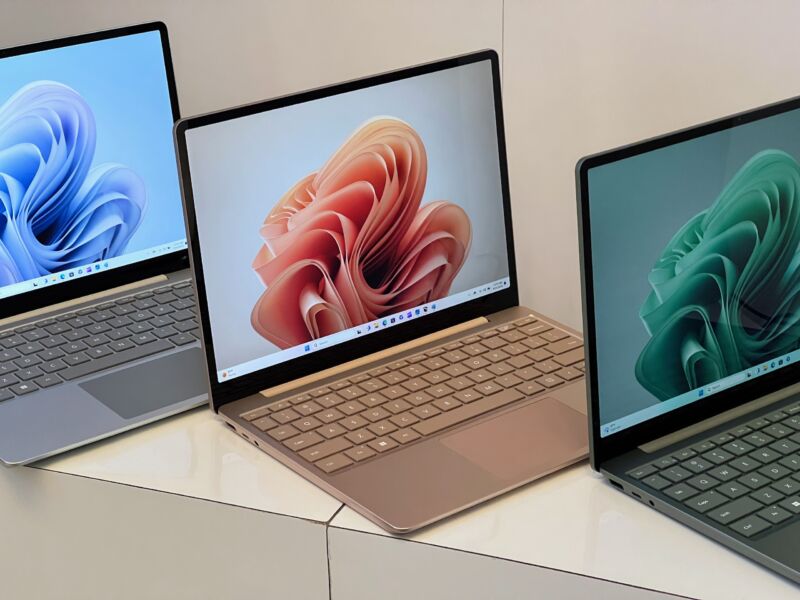 NEW YORK—Microsoft is updating two of the cheapest, cutest Surface devices today, announcing internal refreshes for the Surface Laptop Go and the Surface Go tablet. The Surface Laptop Go 3 and the Surface Go 4 are externally identical to their predecessors, but both are getting respectable internal upgrades that should provide enough power for budget-minded PC buyers. But only the laptop will be available to the general public; the new Go tablet will only be offered to Microsoft's business customers.
Microsoft Surface Laptop Go 3
(Ars Technica may earn compensation for sales from links on this post through affiliate programs.)
The Laptop Go 3 is getting a new higher starting price of $800, which is $200 higher than the starting price of the Laptop Go 2. That said, the $600 configuration of the Laptop Go 2 was essentially impossible to recommend, thanks to its 128GB SSD and (especially) its paltry 4GB of RAM. The new base config comes with a serviceable 8GB of RAM and 256GB SSD, with a 16GB RAM upgrade available for another $200. These upgrade prices are steep and arguably take the Go out of the "budget laptop" category, but they do have the benefit of making it much more usable, and the laptop costs the same amount as the 8GB/256GB version of the Laptop Go 2.
The Laptop Go 3 is available for preorder now in four different colors and will launch on October 3.
The Surface Laptop Go 3.


Microsoft

The Surface Laptop Go 3 comes in four colors.


Microsoft
The Laptop Go 3 continues its tradition of lagging a CPU generation behind the higher-end Surfaces (and most PCs on the market), sticking with a 12th-generation Core i5-1235U processor with two P-cores and eight E-cores. In this case, given that many 13th-generation Core CPUs are just 12th-gen models with mild clock speed bumps, you're not missing out on much with an older processor. And U-series 12th-gen chips we've tested haven't had the same battery life issues as 12th-generation P-series processors did.
The Laptop Go 3 still uses a 12.4-inch touchscreen with a good-enough 1536×1024 resolution and a 3:2 aspect ratio and comes with a limited port selection—you still only get a single USB-C port, a USB-A port, a headphone jack, and a Surface Connect port. Any external displays must be connected to the USB-C port, so make sure to get a dongle if you need HDMI (though it's a good fit for a monitor with built-in USB-C). It still has a basic 720p webcam with no Windows Hello capabilities, but a fingerprint sensor is still built into the power button. There's still no keyboard backlight.
The Go 4 looks just like older Go models.


Microsoft

The Surface Go 4 tablet, available exclusively to businesses.


Microsoft
The Surface Go 4, for those who can buy it, also keeps the same design as before. It has a 10.5-inch 1920×1280 screen, a single USB-C port, a headphone jack, a microSD card slot, and a Surface Connect port. Its base RAM complement is also bumped up from 4GB to 8GB, though 64GB and 128GB storage options are still available.
The tablet uses a quad-core Intel N200 processor; normally, we'd consider an N-series CPU an argument against buying an inexpensive PC—these chips are descendants of the old Intel Atom netbook processors, and they usually feel like it. But the N200 is based on the same architecture that 12th- and 13th-generation CPUs use for their E-cores, cores that are comparable in speed to old Skylake-based chips like Intel's 6th-through-10th-generation processors. The result is a chip that actually feels fine for most everyday computing, and it should be a nice step up from the exclusively dual-core CPUs in the Surface Go 3.