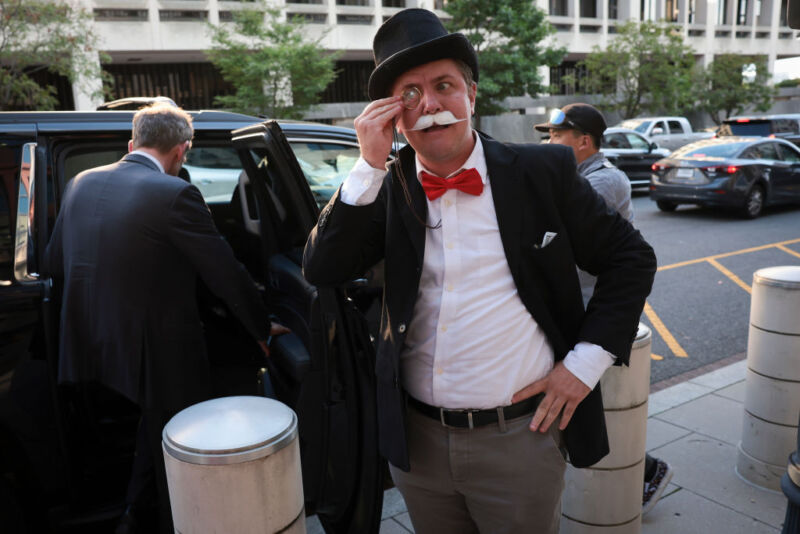 This morning, Bloomberg published more than a dozen public exhibits that Google argued the public shouldn't have access to from the Department of Justice's 10-week antitrust trial examining Google's search business. The DOJ had hastily removed those exhibits from its website earlier this week after Google complained to the court that the DOJ was sharing trial exhibits online.
"Just so we understand what's at stake here, every document [the DOJ's lawyers] push into evidence they post on their website, and it gets picked up far and wide," Google lawyer John Schmidtlein said in an objection raised on Tuesday. The dramatic moment followed sealed testimony from Google's vice president for finance, Michael Roszak, regarding a document that Google claimed was "embarrassing" and Roszak claimed was "full of hyperbole and exaggeration," Bloomberg reported.
"This isn't a business record, and it's totally irrelevant to these proceedings," Schmidtlein argued.
According to Big Tech on Trial reporter Yosef Weitzman, Judge Amit Mehta "didn't know DOJ was doing this" and ordered the DOJ to take down all the exhibits on its website tracking updates in the trial.
"That's something I wish I'd been told," Mehta said. "I think a judge is told before evidence in the record is actually put on a publicly available website."
However, Bloomberg reported, Mehta also acknowledged that "once it's admitted into evidence, in fairness, it is a public document." Even though Google considered Roszak's email "embarrassing," Mehta said that it "doesn't contain anything confidential." Mehta said Google put him "in a pickle" by insisting that Roszak's testimony be confidential so that the public wouldn't understand the full context of the "embarrassing" email.
Bloomberg reporter Leah Nylen posted about the dramatic courtroom exchange on X, saying that she was one of only two reporters left in the courtroom when the judge issued the order. Nylen said that she quickly "objected and asked that Bloomberg have an opportunity to have a lawyer present to argue for continued public access."
Judge Mehta said that he would make a final ruling on Wednesday morning, but "in the meantime," Nylen noted that "all the documents that have been released" by the DOJ were "pulled back" and "the Justice Department's page" was "no longer online," at least temporarily. That website is currently accessible again, but Bloomberg reported that "emails, charts and internal presentations" are still unavailable to the public, and Mehta still hasn't made his ruling on whether the DOJ can resume sharing any new exhibits. Defending public access, Bloomberg published all the exhibits the DOJ posted so far, which include Google's presentation on "Antitrust Basics for Search Team" and emails from Google's chief economist, Hal Varian.
Judge Mehta said he wasn't necessarily opposed to them being posted and that they were a part of the public record as long as they were submitted. For now, it seems like he's leaving it to the parties to work out.

— Big Tech on Trial (@BigTechOnTrial) September 19, 2023
Judge Mehta ordered DOJ to remove the exhibits they had posted about the case on the Justice Department's website. He said he will make a ruling in the morning on whether the public can continue to gain access to exhibits.

— Leah AntiTrustButVer1fy Nylen (@leah_nylen) September 19, 2023
Civil rights groups tracking the trial have previously criticized Mehta for protecting Google's privacy over the public's interest. And last week—as the DOJ claimed Google was hiding evidence by training employees to avoid words monopolists use in office communications—Mehta allowed Google to seal off testimony from a Verizon executive despite the DOJ's objections. The DOJ seems increasingly concerned that blocking public access to key facts in the trial establishing Google's alleged monopoly might hurt its case.
Nylen noted that Google "has its own website where they'd been posting exhibits," and Weitzman noted that Mehta "wasn't necessarily opposed" to either party sharing exhibits since "they were a part of the public record as long as they were submitted." But after the order, Weitzman said the DOJ apologized and suggested a compromise: "providing the exhibits it wants to post to Google 24 hours before they went up."
For now, "the exhibits remain offline and the court hasn't said when or whether they will be reposted," Bloomberg reported.
The competition director for the Electronic Frontier Foundation (EFF), Mitch Stoltz, told Ars that he was surprised that Google and the DOJ didn't reach an agreement on which documents could be shared with the public ahead of the trial since this issue is common in antitrust trials.