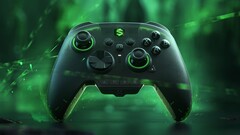 Black Shark – which started out as Xiaomi's gaming smartphone division – has heralded its "new gaming era" with the Green Ghost controller. It boasts ALPS joysticks for enhanced "durability" and "2,000-level accuracy". It has been joined by a new smartwatch, open-ear earbuds and a new MagCooler 3 Pro in the brand's updated web-store.
Black Shark is back – however, it has no flagship gaming smartphones to sell this time. It seems to have pivoted to target gaming accessories in general instead with its latest products. They include the brand's latest Gamepad with a Green Ghost finish.
It is rated for a 1.000Hz polling rate, and has a 10,000mAh battery for "control freak" wireless gaming via a 2.4GHz receiver on Android, iOS, the Nintendo Switch or PCs. The "fine-tuned for perfection" is priced at US$99.90 on blackshark.gg.
It has been joined on the site by the MagCooler 3 Pro: a successor to the FunCooler series pitched at MagSafe-compatible iPhones. Black Shark has also broken into open-ear earbuds with the new Lucifers, and also adds the S1 smartwatch to its portfolio.
It has a round 1.43-inch AMOLED display rated to stay on for up to 10 days per charge, is rated for SpO2 and heart-rate monitoring and for "100+" sports modes. Then again, its generic metallic IP68-rated casing would not be picked out as a Black Shark product without the ~100 watchfaces baked into its unnamed OS.
Accordingly, it is priced at US$49.90, whereas the Lucifers and MagCooler 3 Pro are US$39.90.
Black Shark email release
Deirdre O Donnell – Senior Tech Writer – 6724 articles published on Notebookcheck since 2018
I became a professional writer and editor shortly after graduation. My degrees are in biomedical sciences; however, they led to some experience in the biotech area, which convinced me of its potential to revolutionize our health, environment and lives in general. This developed into an all-consuming interest in more aspects of tech over time: I can never write enough on the latest electronics, gadgets and innovations. My other interests include imaging, astronomy, and streaming all the things. Oh, and coffee.
Deirdre O'Donnell, 2023-09-20 (Update: 2023-09-20)