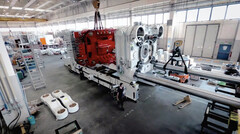 Tesla's disruptive gigacasting process is undergoing an overhaul that may enable the EV maker to cast the underbody of its vehicles as one cohesive part, rather than hundreds of parts. Reducing the BOM cost should reduce production costs significantly, but there are concerns about repair costs and part failures. mobilit
Since its inception, other car makers have sought to replicate Tesla's gigacasting successes to bring down assembly and production costs and overall vehicle complexity. Recently, sources close to the matter revealed to Reuters that Tesla is close to stepping things up again with a gigacasting process that may allow the EV maker to cast the entirety of a vehicle's underbody as one single part.
The updated gigacasting process would theoretically replace over 400 individual parts with one single cast unit. This new process, is thought of as instrumental to the company's modular "unboxed" process that would see a vehicle produced as a number of subassemblies and snapped together. The unboxed process will likely be key to the expected US$25,000 price for the upcoming Tesla Model 2.
Tesla's gigacasting process, and its resulting cost reductions, has caused serious waves in the automotive industry, with many other OEMs now investigating how to replicate the process in their own assembly lines. In a nutshell, Tesla uses gigacasting to reduce the number of parts in a bill of materials by casting larger parts as single pieces, bringing down manufacturing and assembly costs substantially.
While reducing the parts list and assembly time will certainly cut manufacturing costs significantly, there is no shortage of sceptics who cite concerns about part consistency, durability, and repair cost. These concerns aren't entirely unfounded, and they have been amplified as reports have surfaced about the updated gigacasting process. There are more than a few reports floating around about large cracks and failing components in parts produced with the original gigacasting process.
Another issue to be considered when talking about gigacastings is repair considerations. While a normal steel frame consisting of multiple parts joined together can often be repaired by replacing the damaged component, this is obviously not possible with a monolithic underbody. Hopefully the modularity promises of the unboxed process allow for inexpensive repairs, otherwise an entire underbody replacement may be in order for a simple fender bender.
Buy a Hot Wheels RC 1: 64 Scale Tesla Cybertruck Rechargeable Radio-Controlled Racing Car on Amazon.
Julian van der Merwe – Magazine & Specialist News Writer – 357 articles published on Notebookcheck since 2022
My interest in tech started in high school, rooting and flashing my Motorola Defy, but I really fell down the rabbit hole when I realised I could overclock the i7 930 in my Gigabyte pre-built PC. This tinkering addiction eventually lead me to study product design in university. I think tech should improve the lives of the people using it, no matter the field. I like to read and write about laptops, smartphones, software and trends in technology.
Julian van der Merwe, 2023-09-15 (Update: 2023-09-15)