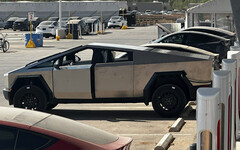 Elon Musk's latest wild Cybertruck tweet suggests offering the stainless-steel-skinned electric pickup truck with an optional tungsten carbide coating for added durability. This would theoretically address concerns of scratches ruining the raw metal's finish, which would be much more difficult to repair than paint.
Images of smeary fingerprints and discoloured door panels have sparked well-founded concerns about the Tesla Cybertruck's durability, but much of the worry comes from the nature of the finish, which would make any imperfections difficult to remove. According to a recent post on X (fka Twitter) by Tesla CEO, Elon Musk, the company could offer a solution in the form of a tungsten carbide ceramic coating to improve durability.
We might be able to offer an optional tungsten carbide coating, which is basically scratch-proof to everything below diamond hardness
For the uninitiated, tungsten carbide is a very hard, scratch-resistant ceramic that is commonly used to coat tools and other industrial equipment that needs to be exposed to harsh conditions and high temperatures. A coating of this nature on something like the Cybertruck would indeed help prevent the discolouration and fingerprints seen in previous Cybertruck footage and reduce scratching significantly, but it would likely introduce other problems.
For one, tungsten carbide coatings are not cheap. There are two processes typically used to apply the material — via detonation gun (D-Gun) using acetylene gas, or via high-velocity oxygen fuel (HVOF) spray — and they are both high-temperature processes.
HVOF is reportedly the more expensive of the two and produces a better surface finish, but both D-Gun and HVOF processes operate at high enough temperatures that they may cause discolouration of the Cybertruck's stainless steel skin. According to HTS Coatings, the gas temperature of both HVOF and D-Gun applications can reach well over 1,000 degrees Celsius, while stainless steel starts to discolour at around 375 degrees Celsius.
Tungsten carbide isn't a newcomer to the automotive space. Porsche has used it to coat brake pads to tremendous effect, although those brake rotors are many times more expensive than the traditional iron rotors, with some reports claiming a replacement cost of ~US$7,000. With regard to the Cybertruck, at that point, you may as well send the vehicle in to have paint or a wrap put on over the fancy stainless steel.
Whether a tungsten carbide coating ever makes it onto the Cybertruck purchasing page remains to be seen, but if it ever does become a reality, it will surely be an expensive add-on with its own unique drawbacks.
Buy a Hot Wheels RC 1: 64 Scale Tesla Cybertruck Rechargeable Radio-Controlled Racing Car on Amazon.
Julian van der Merwe – Magazine & Specialist News Writer – 357 articles published on Notebookcheck since 2022
My interest in tech started in high school, rooting and flashing my Motorola Defy, but I really fell down the rabbit hole when I realised I could overclock the i7 930 in my Gigabyte pre-built PC. This tinkering addiction eventually lead me to study product design in university. I think tech should improve the lives of the people using it, no matter the field. I like to read and write about laptops, smartphones, software and trends in technology.