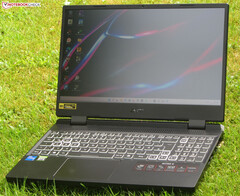 The Acer Nitro 5 gaming notebook running a Core i7-12650H CPU and an RTX 4060 GPU has been priced down to less than US$1,000 on eBay. For the price, the machine seems like a very good buy as the internals on offer showcase pretty solid performance on paper. Additionally, the 15.6-inch display should also be quite good for gaming as it covers 100% of the sRGB gamut and has a fast 165 Hz refresh rate.
If you are on the hunt for a mid-range gaming machine with a fairly large display, solid performance, and a budget-friendly price tag, you might want to take a look at the 2023 Acer Nitro 5 (AN515-58) which is currently on sale for only US$949.99 on eBay via Antonline. Per the product page, the discounted rate is US$330 lower than the US$1,279.99 list price making for massive savings (courtesy of slickdeals).
The Acer Nitro 5 SKU on sale is configured with a Core i7-12650H Alder Lake CPU, an RTX 4060 GPU, 16 GB of DDR5 memory, 512 GB of storage, and a 15.6-inch IPS display. The display covers 100% of the sRGB gamut, features a snappy 165 Hz refresh rate alongside a 3 ms response time, and 300 nits of advertised brightness. Rounding the package off are Wi-Fi 6, an HD webcam, and an RGB backlit keyboard.
When it comes to performance, the Acer Nitro 5 is capable enough to handle content creation and gaming workloads. Starting with the CPU, the Core i7-12650H is a 10-core processor that achieved Cinebench R23 Multi-Core and Single-Core scores of 13,098 and 1,765 in our tests respectively. These are strong results meaning that the Acer Nitro 5 should put up a respectable effort in CPU-intensive tasks.
Similarly, the 140 W RTX 4060 should also ensure commendable mid-range gaming performance. According to our testing, the board practically matches the last-gen RTX 3070 laptop GPU while being 9% behind the RTX 3070 Ti laptop in the 3DMark Time Spy Graphics benchmark. The synthetic performance translates well to gaming where we measured frame rates of more than 60 FPS in games like Star Wars Jedi Survivor, Ratchet & Clank Rift Apart, and The Last of Us running at FHD resolution with "High" quality graphics.
Long story short, the Acer Nitro 5 is an enticing mid-range contender that has now become an even better option thanks to the sub-US$1000 sales price.
Disclaimer: Notebookcheck is not responsible for price changes carried out by retailers. The discounted price or deal mentioned in this item was available at the time of writing and may be subject to time restrictions and/or limited unit availability.
Fawad Murtaza – Tech Writer – 558 articles published on Notebookcheck since 2021
I am Fawad, a fellow tech nerd. As a tech junkie, my relationship with technology goes back to my childhood years. Getting my first Intel Pentium 4 PC was the start of journey that would eventually bring me to Notebookcheck. Finally, I have been writing for tech media since 2018. From small no-name projects to industry leaders, I have worked with a number of tech publications.
Fawad Murtaza, 2023-09-14 (Update: 2023-09-14)