At a glance
Expert's Rating
Pros
High brightness
Good contrast ratio for the price
100Hz refresh rate boosts motion clarity
Cons
Unstable, unergonomic stand
Medicore color performance
144Hz refresh rate would be preferable
Our Verdict
The Viewsonic Omni VX2716 delivers good image quality and motion clarity for the price.
Best Prices Today: Viewsonic Omni VX2716
Gaming monitors are expensive. The best models, like the Alienware AW3423DWF, routinely sell above $1,000, and even midrange favorites like the Acer Nitro XV272 are often around $300. The Viewsonic Omni VX2716 undercuts most competitors at $150 and offers a good gaming experience despite cuts to build quality.
Further reading: See our roundup of the best gaming monitors to learn about competing products.
Viewsonic Omni VX2716 specs and features
The Viewsonic Omni VX2716 is a typical 27-inch 1080p budget monitor. It uses an IPS LCD display with an edge-lit LED backlight and offers few noteworthy features.
Display size: 27-inch widescreen
Native resolution: 1920×1080
Panel type: IPS LCD
Refresh rate: 100Hz
Adaptive-Sync: AMD FreeSync
HDR: None
Ports: 1x HDMI 1.4, 1x DisplayPort 1.2, 1x 3.5mm audio-out
Stand adjustment: Tilt
VESA mount: Yes, 100x100mm
Speakers: Yes, 2x two-watt
Price: $149.99 MSRP
Just one specification stands out: the refresh rate, which can reach 100Hz. That's not as high as other entry-level gaming monitors, which more often target 120Hz or 144Hz—but the VX2716 is less expensive, with an MSRP just under $150.
Viewsonic Omni VX2716 design
The Viewsonic Omni VX2716's tight budget is obvious the moment it's unboxed. The monitor's design is bland, with inexpensive plastics across the display bezel and stand. It lacks any distinct design features, striking an unremarkable look that fails to stand out. This, to be fair, is common for budget monitors, but I feel competitors like Acer and Dell tend to look better in the sub-$200 arena.
The monitor also has a light, inexpensive stand that tends to wobble. It's easy to accidentally tilt or tip the monitor when it's bumped, or even when using the on-screen menu. The stand also requires installation of two screws (which are provided) to keep it secured. It's a minor annoyance not common on more expensive monitors, which often snap into place.
The stand is short, too, and lacks essential ergonomic adjustments like height and swivel, offering only a limited tilt function. Taller users will need to place the stand on a shelf, book, or box for a comfortable viewing angle. Viewsonic at least includes a 100x100mm VESA mount, offering support for third-party monitor stands and arms.
Matt Smith/Foundry
Viewsonic Omni VX2716 features and menus
The VX2716 has one HDMI 1.4 and one DisplayPort 1.2 video input. That's acceptable, though not outstanding, connectivity for a monitor sold under $200. The monitor also has a 3.5mm audio output for audio connectivity with speakers or wired headphones. USB is completely lacking, so the monitor won't be useful as a USB hub.
Monitor options are controlled using an on-screen menu similar to other Viewsonic displays, though the range of options is limited. The monitor includes a number of vague preset modes (such as RTS and MOBA game modes). These are joined by a few more precise adjustments, such as color temperature and three-axis color adjustment. The monitor lacks gamma adjustment. Gamers gain access to a black stabilizer, which lifts shadows in dark scenes to make enemies visible.
The menu relies on forward-facing buttons instead of a joystick or rear-facing buttons. This makes the controls easy to locate but proves a bit cumbersome, as the lightweight stand barely resets the force required to activate the buttons. I took to holding the monitor with my left hand while navigating the menus with my right.
Viewsonic throws in a pair of two-watt speakers. They're extremely weak, however, and only suitable for basic Windows systems sounds or maybe a podcast. Games, music, and movies are muddy and mashed, so external speakers or headphones are highly recommended. This, to be fair, is true of all budget monitors: No monitor in this price range offers a passable audio experience.
Viewsonic Omni VX2716 SDR image quality
Image quality is just as important for budget monitors as more expensive alternatives—perhaps even more so, as the gap between the best and worst budget monitors is large. Fortunately, the Viewsonic Omni VX2716 offers strong SDR image quality for the price.
Matt Smith/Foundry
Brightness is certainly in the VX2716's favor with a maximum brightness of 354 nits, the second-highest in this comparison and beaten only by the Dell G2723H, which is typically $50 more expensive. The VX2716 is usable in a wide variety of situations and holds up well alongside bright sun-lit windows and intense overhead lighting. You'll be hard pressed to find any monitor in this price bracket with significantly superior brightness.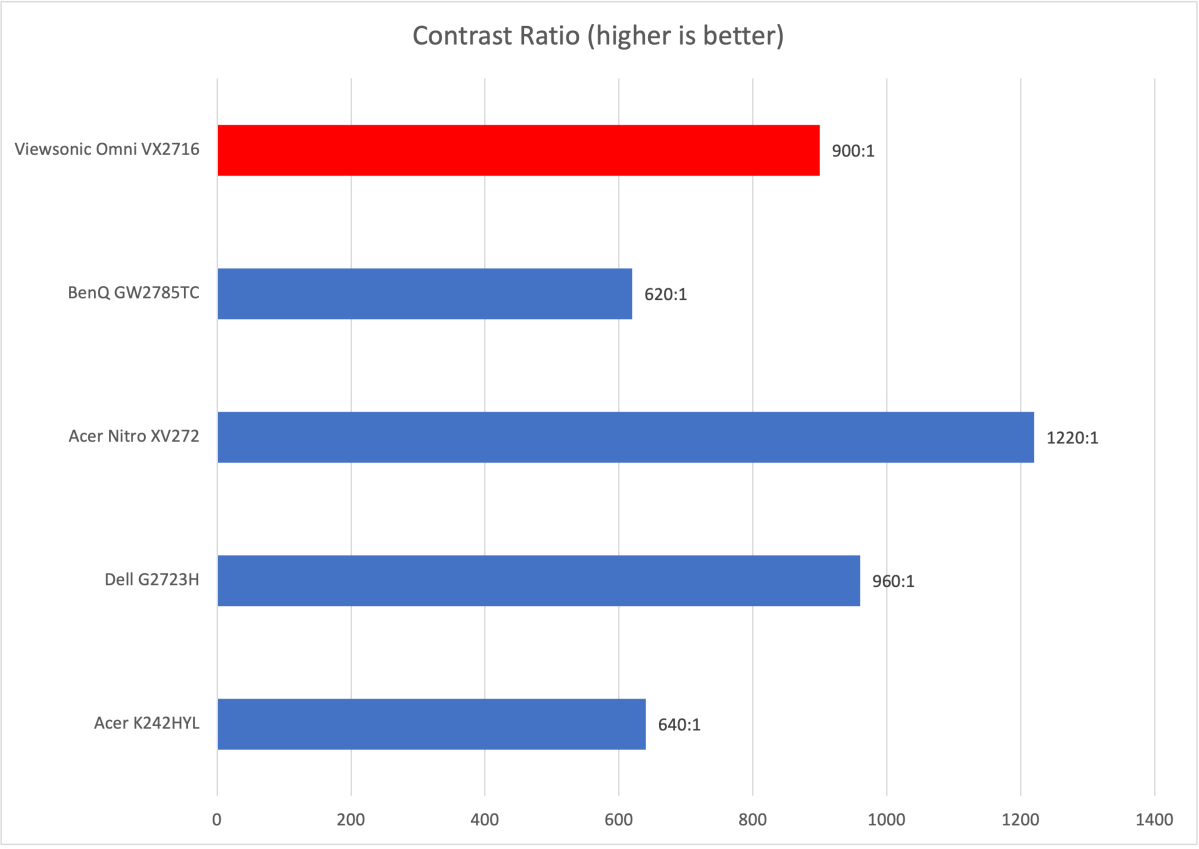 Matt Smith/Foundry
Contrast is decent with a maximum contrast ratio of 900:1. That's not an amazing result but, as the graph shows, it holds up nicely when compared to similarly priced monitors. The VX2716 offers modest depth and dimensionality and holds up well when viewed in a bright room. Its contrast limitations become obvious in dark content, as the display can look hazy and gray when it should appear dark.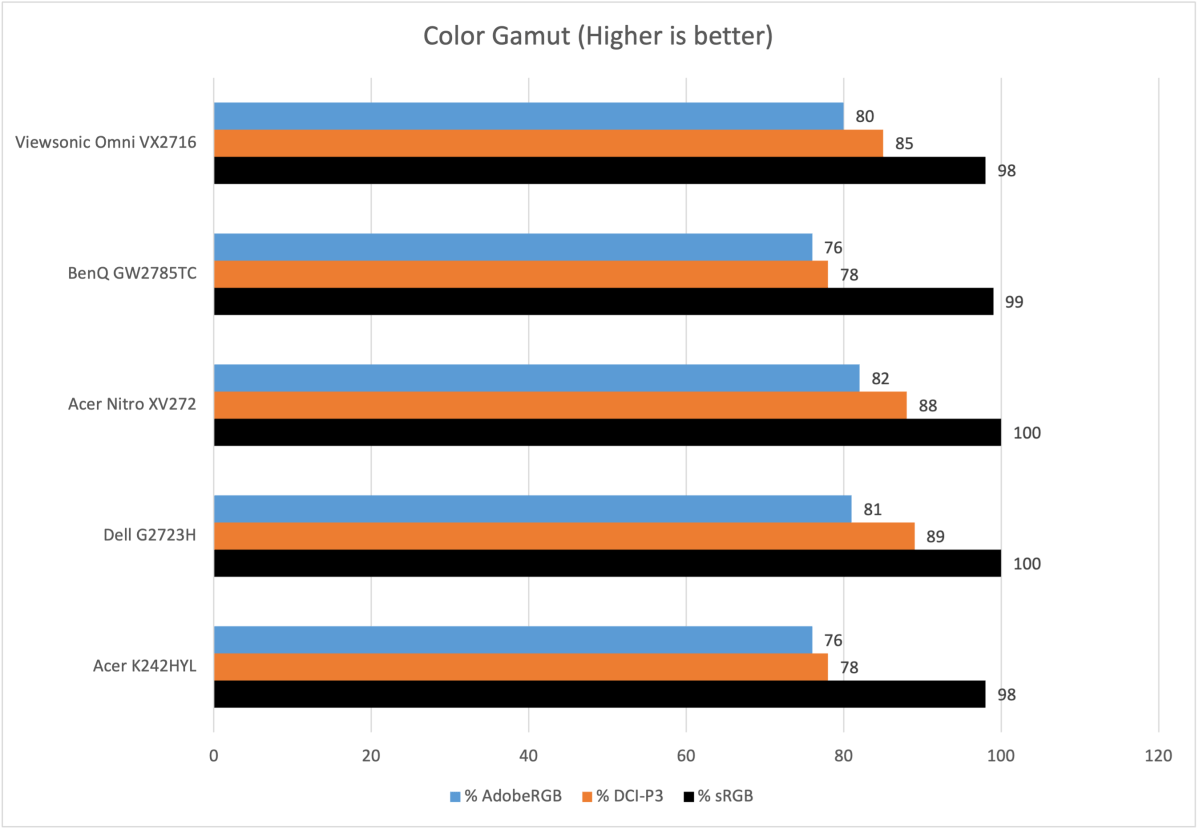 Matt Smith/Foundry
The VX2716 offers a color gamut that spans 98 percent of sRGB and 85 percent of DCI-P3. That's a good result for the monitor's price range, matching or beating monitors such as the BenQ GW2785TC and Acer K242HYL. However, the monitor's color may seem subdued when compared to alternatives towards the more expensive end of the budget monitor market, such as the Dell G2723H.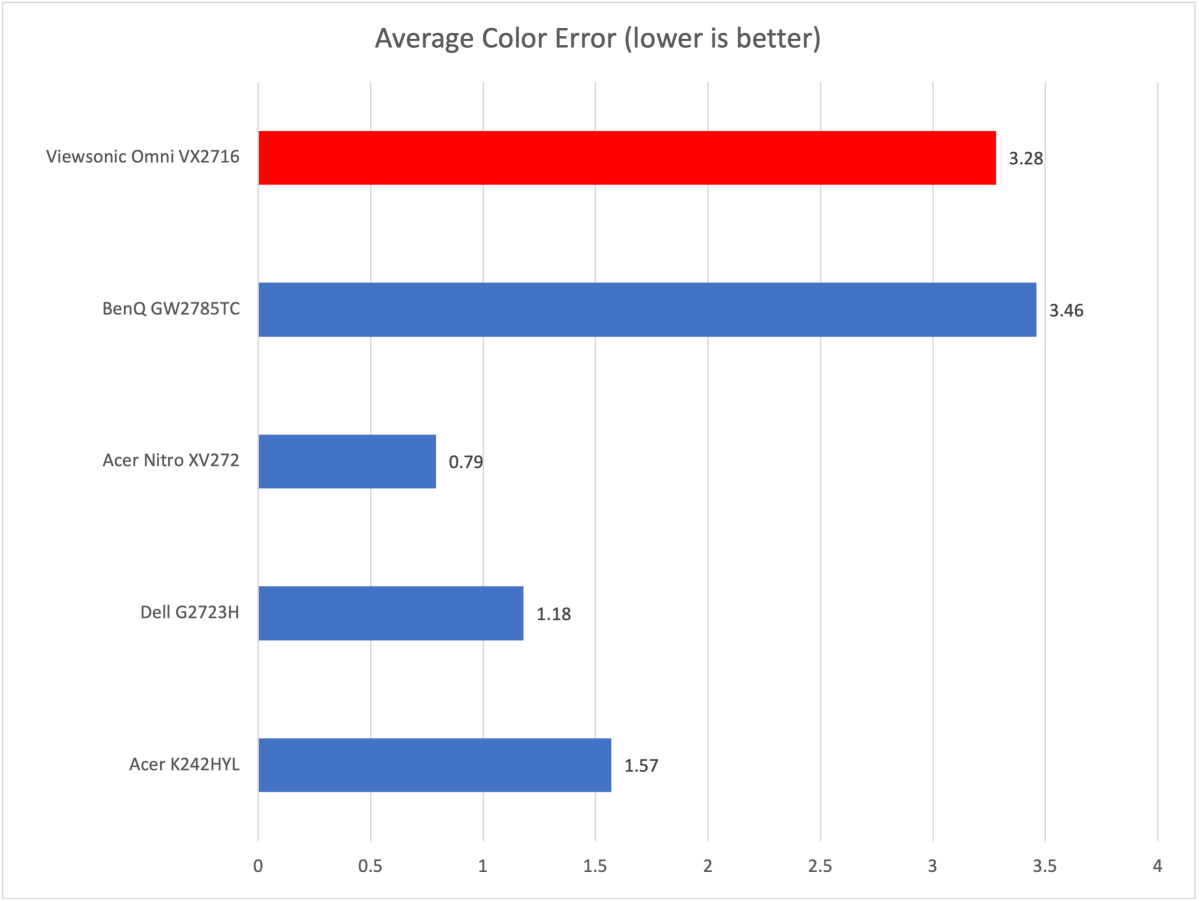 Matt Smith/Foundry
Color accuracy is weak even when compared to other budget monitors. The VX2716 doesn't stand out as inaccurate or unrealistic when viewed on its own, but there's a slight shift in blue and yellow hues. Still, I think this is an acceptable result for a budget monitor and it's unlikely to stand out when compared to similarly priced displays.
The VX2716's lackluster accuracy may be linked to its default color temperature of 7100K, which is noticeably off the desired target of 6500K. This provides a cool, sterile, and clinical look. It can be fixed by setting the monitor's color temperature to Warm, but this pushes the color temperature to 6100K, which is a bit too warm.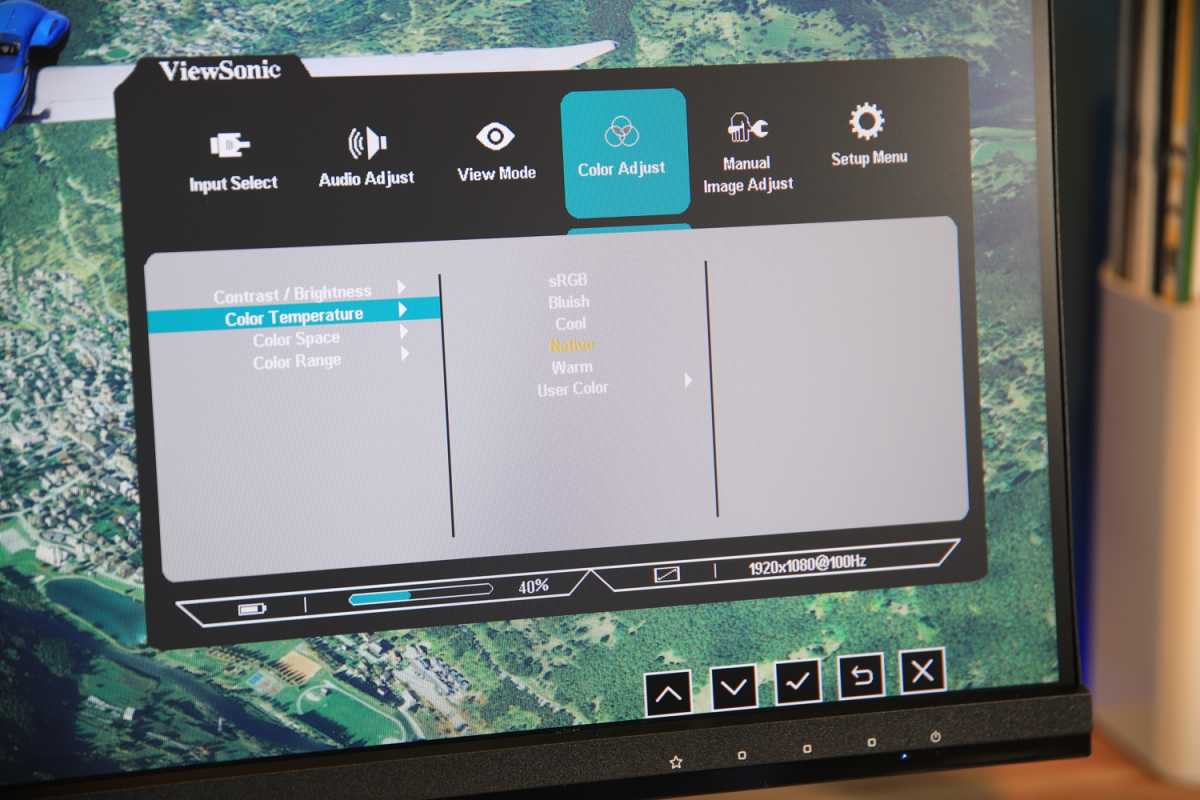 Matt Smith/Foundry
Sharpness is acceptable. This is a 27-inch, 1080p monitor with a pixel density of roughly 81 pixels per inch. That's towards the low end of what's available on modern monitors, and it shows. Small text can appear pixelated and indistinct. On the plus side, however, the monitor uses a conventional subpixel and doesn't display a large gap between pixels, traits that make the most of the available pixel count. The VX2716's image may look soft, but it gets the job done.
The Viewsonic Omni VX2716's is a strong budget monitor but has clear limitations. I don't recommend this monitor to creators who need good color performance, and the lack of pixel density can cause games to look pixelated or soft. These problems are offset by an acceptable contrast ratio, high maximum brightness, and a color gamut that's a bit wider than typical for the monitor's price range. The monitor's SDR image quality isn't amazing but it's good for the price.
Viewsonic Omni VX2716 HDR image quality
The Viewsonic Omni VX2716 lacks support for HDR. This isn't a surprise given the monitor's maximum SDR brightness of 350 nits and modest contrast. While a few budget displays claim HDR support, no display in this price range can deliver adequate HDR performance. The Cooler Master Tempest GP27Q, priced at $530, is the bare minimum for good HDR—and truly great HDR monitors are usually $1,000 or more.
How does the Viewsonic Omni VX2716 Motion perform?
Viewsonic advertises the Omni VX2716 as a gaming monitor and backs that up with a 100Hz refresh rate. This is an uncommon refresh rate (120Hz or 144Hz is more typical), and it's a bit disappointing that Viewsonic was unable to spring for 144Hz. The monitor also supports AMD FreeSync for smooth framing pacing with AMD video cards.
Motion clarity is adequate with some detail preserved in fast-moving objects. It's enough to make out the outlines of objects, but smaller details will be obscured. Scrolling test images of League of Legends showed that character silhouettes, map details, and hitpoint bars were visible, but character names and tick marks within hitpoint bars were unreadable in motion. Spell effects and fine map details, like the exact outlines of trees or brush, can prove difficult to see.
The VX2716 delivers an overall improvement over a 60Hz productivity or office monitor, but I would've liked a higher refresh rate. Alternatives with a 120Hz, 144Hz, or 165Hz refresh rate are more expensive but often only by $20 or $30.
Should you buy the Viewsonic Omni VX2716?
Gamers looking to pick up a monitor for around $150 should give the Viewsonic Omni VX2716 a chance. It delivers good image quality and decent motion clarity for the price. Achieving these results on a tight budget means sacrificing build quality, however, and the 100Hz refresh rate is low for a gaming monitor.